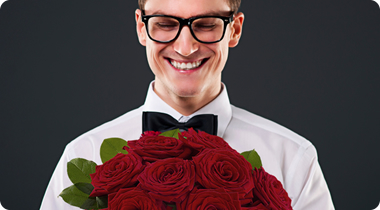 For some people Valentine's Day is just a commercial day to which little attention is paid and for others the most romantic day of year, a day on which to celebrate love. We have gathered some statistics about Valentine's Day that show the real side to Valentine 's Day, some that will surprise you!
75% of women explicitly tell their partner which gift (or gifts!) they want to receive
66% of women over exaggerate the Valentine's gift they received when they discuss with their friends
75% of men don't offer chocolates to their partner because they think that they are already overweight
For 68% of women the perfect night in must include chocolate
65% of men have swiftly changed their subject when their partner has mentioned the word 'marriage'
1 out of 4 men forget to buy a card for their partner last year...
...Only 1 in 50 women forgot to buy one for their partner
79% of men would rather have a night out with their mates than a romantic diner
28% of women have dressed up expecting their partner to pop the question. Only for it not to happen
42% of men have feigned illness on at least one Valentine's Day to avoid a night out with their lover
65% of women would prefer cash instead of a real present and would rather go shopping themselves or with friends
83% of men only book a table after being told to by their partner
58% of women offer to pay for the Valentine's night meal in full
1 out of 2 men suggest having a meal on an alternative day to the 14th so that they can save money. Why not use a 2 for 1 meal voucher lads!
53% of women want Valentine's Day Flowers
We also collected some fun anecdotes about Valentine's Day such as the best or worst Valentine's gift or memory. If you want to share your own experience with us, please do so sending us an email at customer.services@myeflorist.co.uk.
"Maria: I knew that my partner will always forgets about important dates, so I carefully left subliminal messages here and there, stuck in the fridge, in the newspaper with a picture of a red rose. On Feb 14th my husband offered me a cactus, because he thought it was original (and cheaper). Very pragmatic guy!"
"Lucas: I was so in love with a friend of mine but I'd had to keep it a secret. In our group we were all single so we decided to have an anti-Valentine's Day meal. I thought that now would be a great time to surprise her and I very discretely gave her a Valentine's card. She just laughed telling me "No, are you serious? That's a joke, where is the hidden camera?" and showed it to all the people there. I felt so ridiculous as they all laughed at me. I only wanted to be romantic."
"Carol: I'm 74 years old and my husband John is 76. We always celebrate Valentine's Day as we think it's important to show our children and grand-children that being romantic is the key. We were both single students when we first met. My first thoughts were that this guy was so rude and disgusting that I really didn't want to go to the Valentine party in our university with him. I went there with someone else, but after a while this guy was drunk and left me here alone. Then John came. He was so polite, so romantic when he invited me for a dance. This was the beginning of a long, sometimes difficult, road together. I always say that we should give a chance to people, being rude outside doesn't mean not being romantic inside".
Our message is that it's up to you to make it special. No need for a special recipe to celebrate love. You want to invent your own Valentine's celebration, unique and special, something brilliant. We aim to give you tools and ideas to make this Valentine's Day the best ever with our Valentine's flowers as we know that flower language is one of the most sensitive but universal in the world.
Check our Collection of Valentine's Day Flowers!