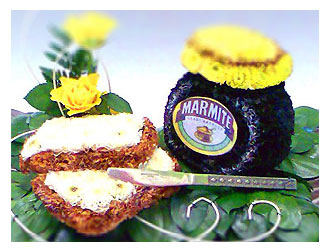 When Petal's Florist in Margate sent us examples of their bespoke funeral work, we simply had to share this particular arrangement with you.
Love it or hate it, the Marmite jar is undoubtedly one of the most unique funeral tributes we have seen in a long time.
Starting with the Marmite jar, buttered toast (created using flower heads) and a real knife were later added, completing the display perfectly.
We're told the jar itself took roughly a day to carve and create with a further half day to add the finishing touches.
If you have a bespoke piece of floristry you're particularly proud of and have a story to tell, please do get in touch, we would love to hear from you. Simply email: online.manager@eflorist.co.uk with your photos and a short description of how your piece of bespoke floristry came in to being.