Ironically, considering our recent spell of bad weather, we have in our Summer Flower range a flower basket called 'Hotter than July'.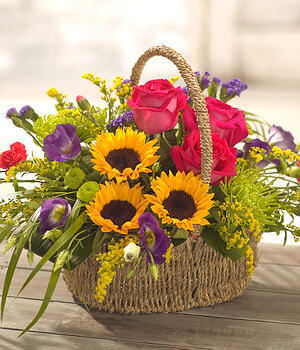 The intense cerise pink Roses and brilliant yellow Sunflowers mixed perfectly with purple Static and Lisianthus is certainly a colour combination indicative of hotter climes, where it's not unusual for July temperatures to go above 20c and stay there. (Maybe in our 2013 collection we should include a product called 'Whatever the Weather').
Investing in this stunning floral display for yourself, as a treat, will undoubtedly brighten the dullest of rooms and what better gift right now for you to send to someone who needs a bit of a lift.
Requiring no arranging, it's a fuss free floral display that's easy to keep. Simply add water occasionally to ensure the flowers are kept as fresh as possible, for as long as possible.