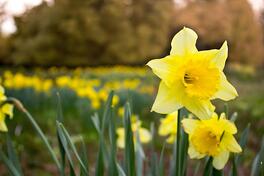 When does spring begin exactly? According to the Meteorological Office, spring starts on March 1st, with March, April and May being considered the spring months. This has caused some commotion as people consider June 21st the start of summer, yet the first weeks of June aren't considered to be spring. So when is it?
While we might not know exactly when spring starts, we know spring is here with the arrival of the beautiful, vibrant spring flowers. Tulips, daffodils, crocuses and anemones, now is the time to fill your gardens, window boxes, rockeries and flower pots with vivacious flowers.
Spring bulbs are available all year round from garden centres, florists, even supermarkets and it couldn't be easier to grow your own displays, regardless of how much space you have spare; sometimes the smaller spaces can have the most effect.
By planting your bulbs any time between October and December, you can ensure your garden blossoms in the spring months, whichever months those may be, with minimal effort, care or attention.
It's up to you what kind of display you would like to grow, whether you plant your bulbs in a uniform pattern for a formal display, or by naturalising the bulbs, casting them and planting them where they land. It's best to plant them at two bulb-widths from each other, but planting them closer together in smaller places, such as window boxes and flower pots can make for fuller, more extravagant displays; especially using mixed bulbs like tulips and anemones. One popular aspect of spring flowers is that regardless of the type, no two displays will be the same thanks to the simply unending variety of flowers available, be it size, colour or fragrance.
You may not be a keen gardener but with just a little care and attention you can cultivate a display that would give even the most seasoned gardener a run for their money.
Fun Fact: Tulips are the only flower that continues to grow even when they have been cut. This will mean you may have to cut the stem more than once as it will grow overnight!
If you hadn't had a chance to plant your bulbs for this spring, though you are in a great position to plan for next year's garden, our spring flowers can be delivered today by our professional local florists. Whether you'd like to bring colour, fragrance or a showy display or if you want to make someone happy, noticed and remembered, send spring flowers.