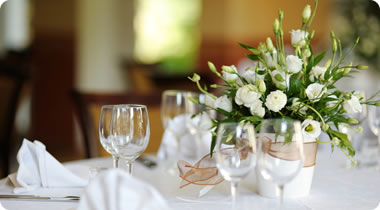 Unique among occasions and with so much emotion packed into one day, a wedding is a huge event, possibly the biggest event in the newly-weds life for many, many years. It isn't always possible to attend a wedding regrettably, but it's still important to let the happy couple know that you are thinking of them on such an important day, a flower delivery is always well received and a card with some personal thoughts is sure to let them know you wish them the best for the start of the rest of their lives.
How do you know what to say on the card? This may catch you out, it's very important to get it right and perfectly capture the sentiment. Below, we have provided examples of great wedding card messages to get you started:
* We unfortunately cannot be with you for this important event in your life but all our thoughts are with you. We send you all our best wishes and long life. Congratulations and have fun!
* All our best wishes and congratulations on this wonderful day. We hope your wedding is as radiant as the sun illuminating this beautiful day!
* Wow, the great day has come! Congratulations and all our best wishes for your wedding. Your happiness is great to see and we are proud to have you among our friends.
* Congratulations! We wish you every happiness in your new life as a married couple! You took your time and we are happy to be with you to celebrate this formalization.
* The day we said "yes" is forever etched. For us, "yes" you're beautiful, "yes" you're great, "yes" we love you, "yes" we are really happy for you, "yes" we want to party, "yes" we will always be there for you, "yes" we wish you all the happiness in the world!
* No matter if it's raining! Even if sun didn't join, you have it in your heart. Congratulations and be happy.
* Thank you very much for your invitation, we regret not being able to honor it. We send you our best wishes for happiness and hope you enjoy this beautiful day with your loved ones. Congratulations on your wedding!
* Congratulations on your wedding. We wish you much happiness throughout your life. The strength of your love will make this winding path as peaceful as possible.
* We are so proud to be with you to your wedding. We are honored to share this precious and intense moment of your life. Congratulations!
* Congratulations for your wedding. We also extend our congratulations to your parents. Have a great day.
* Congratulations for your wedding. We thank you for this great day, everything was perfect. The ceremony was so emotional. We love you!
* Congratulations and thank you. What a wedding day! Wow wow wow Enjoy your honeymoon
* Congratulations for a perfect wedding. Hope you enjoyed it as we did. You were just amazing, we love you. Thanks so much for this unforgettable time. Enjoy your honeymoon.
Depending how well you know the bride and groom, it is possible to give a more personal side to the message, such as adding a few anecdotes or using a more similar language.
It's also common in different cultures to send congratulations after the wedding day. This is something we don't do in the UK for example, but this is very popular in Spain.
To please the bride and groom and celebrate this event as it should with a smile, send flowers! See the collection of wedding flowers and choose from all our ideas of wedding bouquets, flower arrangements or plants.
Long live the newlyweds!