Mother's Day is celebrated all over the world, with many countries having a fixed date to mark the occasion… but not the UK. Every year Mother's Day falls on a different date; sometimes early March, other times late March, but why? Could it be a plot created by mums to keep children on their toes? Read on to discover why, in the UK, we like to mix Mother's Day dates up.
Mothering Sunday History
In the UK, Mothering Sunday falls on the fourth Sunday of Lent - exactly 3 weeks before Easter Day. Traditionally, it was a day when people would visit their 'mother church' (the place they had been baptised, or their local place of worship.) Anyone who did this was said to have 'gone a' mothering'. The Mothering Sunday tradition we know today started to emerge when domestic servants were granted leave on this day to do the same. Because this was the only time they were allowed off during the year, it made going 'a 'mothering' the ideal opportunity for families to get together.
Mothering Sunday Flowers
Eventually, the religious tradition evolved to resemble the day we celebrate today, where children give a gift to their mother. In the Victorian times, servants would traditionally pick flowers on the way home to visit mum, which is why the link between Mother's Day and flowers remains so strong today.
So next time you're unsure when to send your mum flowers, simply count 3 weeks back from Easter day.
She's spent a lifetime looking after you. From wiping away your tears that time you scraped your knee, to playing taxi service when you got into that new hobby, so it's only right to show your appreciation with a thoughtful gift. If you want to stick to the traditionof flowers but have a unique twist, we have a few fabulous floral options your mum will adore.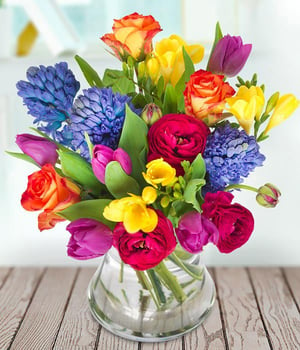 For those who wish to steer clear of pastel shades. This vibrant bouquet is great value and sure to put a spring in her step! Hot pink ranunculus mingle with yellow freesia, fragrant blue hyacinth, purple tulips and stunning orange roses to create a glorious display.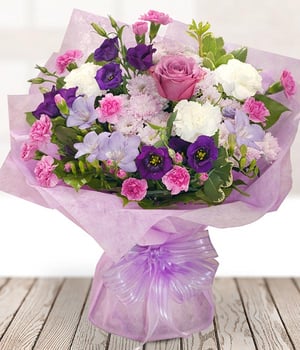 Another unique colour combination for those who don't do pure pink. The gentle purple, lilac, pink and white colour scheme creates dreamy pastel feel. Full of the most exquisite seasonal blooms and hand-prepared by a local florist, this dazzling bouquet is sure to make her day.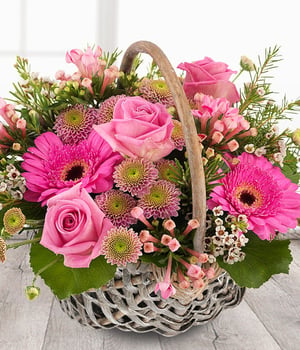 A basket arrangement is the perfect solution for the apprehensive flower arranger, with the flowers displayed in floral foam, all your lucky recipient need do is water their blooms occasionally. The stunning colour combination of pink blooms includes roses, bouvardia and gerbera, coupled with fragrant cream wax flower. Simply gorgeous.
Which do you think your mum will adore?
With love
Eflorist x