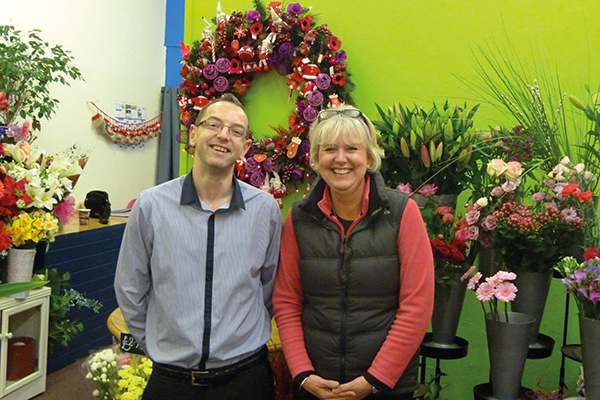 Paul Rushforth, our newly appointed Corporate Accounts Manager and Project Co-ordinator (and breathe!), recently visited eFlorist Jane Bidwell Flowers in Hythe, Southampton. Jane – a long standing member of the eFlorist network – trained at the Welsh College of Horticulture and gained a National Diploma in Floristry and Flower Production. Since then she has gained over 21 years' experience running flower shops, setting up her own business in 2004. Jane and her small team offer a wide range of flowers for traditional or hand-tied bouquets; up-to-the-minute funky flower arrangements; antique roses and out of season blooms in her shop and online.
Prior to joining the Business Services team, Paul had spent a number of years working within the Customer Service department liaising with customers and florists alike (although this is the first time he was let out to meet a real live florist). He is responsible for working with the development team behind the eflorist.net system so time spent with a florist has been very useful. All feedback is relayed to the site developers from a florist's viewpoint which will make for a more user-friendly system.
Paul's visit to Jane Bidwell Flowers gave him a first-hand view of how a florist is adapting to the new system, as well as getting a more informed perspective on how the online system is used on a daily basis by a successful florist. Despite Paul knowing a lot about the business within the realms of HQ, he has come back inspired proving that nothing can beat a face to face learning experience! (Though the next time he visits a florist shop he says he will take his 'Arctic weather gear' as he now appreciates the temperature required to keep flowers fresh is not the same as a cosy office!) Paul still speaks to florists daily in one form or another as well as showing that he has a friendly voice to fit the friendly face!
Click here if you are a florist and would like to know more about joining the eFlorist network and what options are available, we'd love to hear from you. Join our florists and be at the heart of a very dynamic community – a place for interaction, innovation and creativity. Please contact Paul, Steph, Lisa, Georgia, Elliot, Carolyn or Chris in our Business Services team by email business.services@myeflorist.co.uk, and find out how we make life easier for our florists. Get on board as a Pro, Lite+ or Lite florist – the choice is yours.