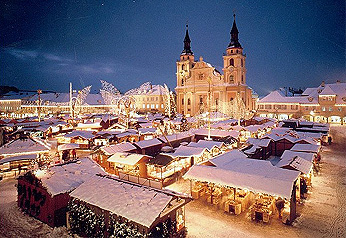 Advent originates from the Latin word 'adventus' which translates to 'coming' and for all Christians it is synonymous with the coming of the Messiah; 'Adventus Dominican'. Advent comes at a time of year where nature is dormant, the days are shorter and colder and the trees are bare. With its symbol of light, Advent brings a touch of warmth, hope, sunshine and peace to the home. Typically, Advent begins four weeks before Christmas and gives Christians the signal that announces the beginning of the Christmas festivities and indicates the countdown and encourages sharing and goodwill.
Traditionally we begin to decorate our houses on the first Sunday of Advent by lighting candles and decorating the Christmas tree with the family. Some families also take the time to create their own wreath on which they place the candle and on each Sunday of Advent an additional candle is lit, the closer to Christmas we get, the more candles are lit.
The Advent wreath first appeared in Germany in the 19th Century made of pine branches (a symbol of life) tied with red ribbons and decorated with pine cones, the candles were added later on. The Advent wreath can be placed on a table to display the candles, else it can be hung on a door.
For kids, the beginning of Advent is the sign of the return of the famous Advent calendar. Originally intended to keep children waiting for Christmas by sharing religious images and holy words, the symbols were gradually replaced by popular characters, sweets, chocolates and other small toys. It's fair to say the Advent calendar as we know bears very little resemblance to the wreath invited by German Protestant families in the 19th Century.
The 90s also saw a comeback, at least in terms of media coverage, of Christmas markets. Also started in the 14th Century, Christmas markets tend to open their doors on the first Sunday of Advent. The most famous Christmas market in France is in Strasbourg and each year attracts thousands upon thousands of spectators. Christmas markets have become the pinnacle of Christmas celebrations in Germany in recent times with some of the most fabulous decorations and displays imaginable.
Above all, Advent is the countdown to Christmas, the shared time with family and friends and, of course, the gifts. It's never too early to start your Christmas shopping, but did you know that flowers are becoming one of the most popular gifts to send at Christmas? If you can't be with family or friends at this time of sharing, perhaps the distance is too great, perhaps you are working, send flowers through our network of highly professional local florists. Nothing says you are thinking of them or is as personal as a flower delivery. Let us take care of making sure your friends, family, colleagues and loved ones feel happy noticed and remembered and have flowers delivered.