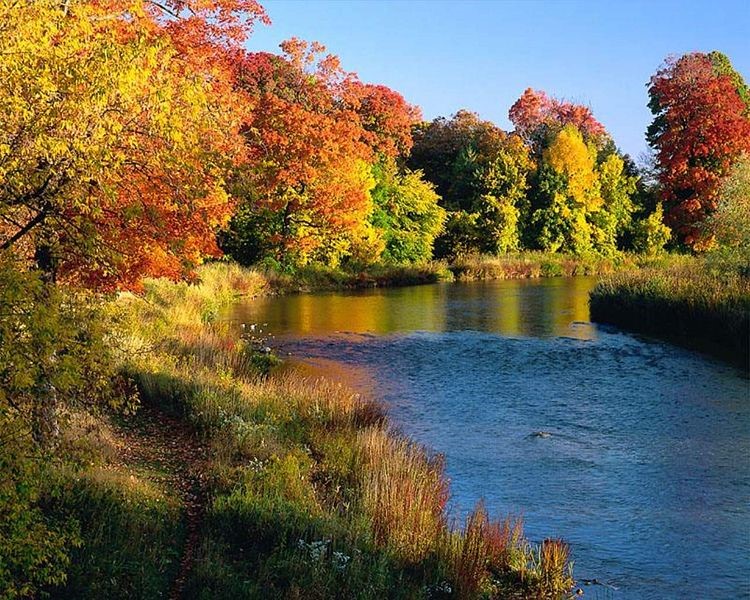 Days fly and nature catches up. We must resign ourselves to the fact that autumn is here knocking at our door! Autumn is not only a sign of dreariness, dullness or sadness, trees are bare, days get shorter and the cold sets in but in exchange we enjoy some of the most wonderful colors.
Indian summer
When a period of good weather occurs during the fall after the first frost, it's known as an Indian summer, experts have determined that this is what we can expect this year. This phenomenon is especially observed in Canada and lasts 3 to 6 days. It is due to the rise in warm currents of the Gulf of Mexico. The weather is mild, winds are almost non-existent and maple forests, birch, and oak blaze red, orange and gold. This weather phenomenon usually occurs in early October.
Why those colours?
In autumn, the sun fades and the nights are cooler. The trees put themselves into energy saving mode for the winter. A cork is formed between the leaf and branch thus preventing the sap to flow freely. When this happens, there are two types of sap that determine the colour and life of the leaves. Irrigated sap provides the leaves enough nutrients to create chlorophyll, which ensures the leaf is bright green. With private sap, chlorophyll leaves room for other pigments in the leaves previously hidden, such as carotene and xanthophyll. After this the leaves are adorned with the most beautiful red, yellow, orange, purple or brown.
Who's life would you like to color with the life with flowers? This is the peak season of dahlias, chrysanthemums, small decorative peppers, cyclamen, Solanum and most importantly it's a time to enjoy and share with your friends. It's the perfect moment to put a smile on your friends or relatives face with wonderful autumn flowers. Thanks to our local florists we can organise your same day flower delivery when ordered online before 3pm, Monday to Saturday. Check our autumn flowers in our online flower shop and in just a few clicks send your flowers!