Katie-Jane Pridmore is a name we've come to know quite well at eFlorist. A talented, up and coming young florist we are delighted to announce Katie recently received another award, winning a first at the Harrogate Flower Show in April.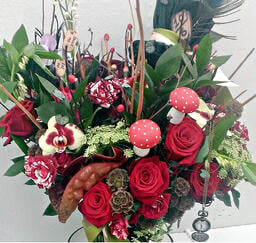 The category asked entrants to create a hand tied bouquet for a story book character - an interesting brief which resulted in Katie creating a bouquet for the Queen of Hearts from Alice in Wonderland.
Using Harlequin spray Roses, Red Naomi, Ammi, Sacbisosa Stilata, Hard Ruscus and a selection of twigs, moss, Lily of the Valley, Anthurium, Phalaenopsis and red Hypericum, the piece took 5 hours to complete. Adding 2 small wooden mushrooms, a handmade velvet top hat with 'Eat Me' and 'Drink Me' labelled test tubes and of course not forgetting the obligatory pocket watch, the final tailor made design fitted the bill perfectly.
Congratulations once again Katie. Keep up the good work!