Katie-Jane Pridmore - The Flower Cabin, Whitley Bay

When The Flower Cabin was approached by a family who wanted to know if it would be possible to create a tribute for a relative who particularly liked lions, they simply said "leave it to Katie".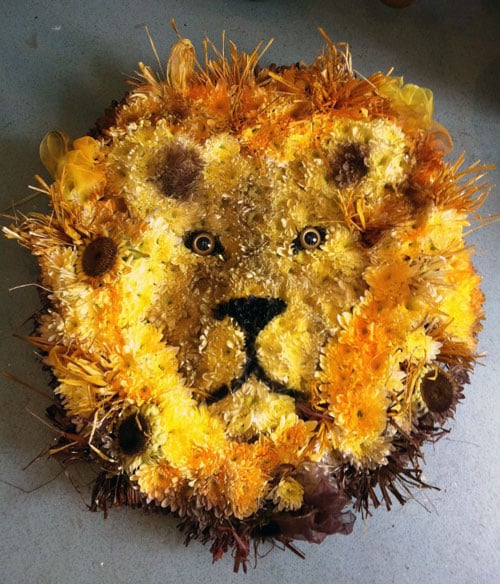 A quick Google search for images and Katie had all the inspiration she needed to get going. With no preliminary designs or attempts, she took a large piece of oasis and started marking out with pen the face of the lion and its mane.
Choosing to focus on the head of the lion, allowed Katie all the freedom she needed to add detail to the piece in a way that she wouldn't have been able to if she had tried to construct the entire body as well.
Cutting the outline with a jigsaw, the base measured roughly 2' in diameter. Extra oasis was added to form the basis of the face and then once soaked in water, white double headed chrysanthemums were added and the piece started to take shape.
Spray painting the white blooms allowed Katie to add depth to the piece in a way that using yellow flowers alone wouldn't have done. With tufts of raffia bows in yellow, gold and brown dotted around the edges, you can start to see the beginning of the mane.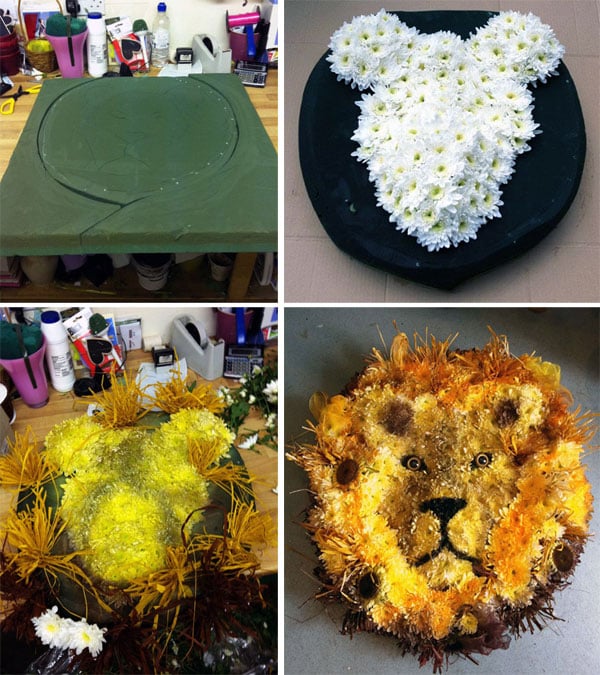 White double headed Chrysanthemums, the centers of sunflower heads and yellow organza were added to build up the base. Katie then spray painted the edges of the piece brown and orange, adding depth and definition.
Using a stencil to mark out the lion's features in black and adding teddy bear eyes, the incredible structure finally came to life.
4 hours in the making, the lion's head is an outstanding example of bespoke floristry. Katie's passion and talent is truly inspirational. Already an RHS Young Chelsea Florist of the Year Silver Award Winner, Katie-Jane Pridmore is certainly a name to watch out for.