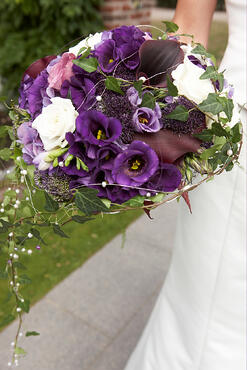 Today trends change very quickly and it is the same for wedding decorations and bridal bouquets in particular. We have chosen to focus on the fact that the flowers should match the style and wishes of the bride rather than following a specific current trend. Traditionally, the groom would offer the bouquet to his bride but today very few couples follow this tradition due to the more prevailing tradition of the groom not seeing the bride in her dress before the wedding day. Furthermore, the bride would certainly not want to have a bouquet that she does not like! These days, the bride chooses her own bouquet carefully so that everything is in harmony and perfect for their big day.
There's no two ways about it, flowers are essential for a wedding. They are an integral part of the decoration and every couple pays particular attention to the flowers as a key element of the success of their wedding. Great care must be taken to ensure the flowers used complement the theme of the occasion perfectly.
Historically, flowers were only used for their perfume to create an atmosphere and served no purpose towards the decoration. The bride would use lavender, thyme or lemon for her own scent. If the bride did have flowers, they would normally be red roses, white freesia, lilies and chrysanthemums. These all had to be small, the intention was not for a bouquet but rather a small floral piece like a brooch on the corsage or a wreath in her head. Those who were unable to afford what were relatively expensive flowers would often make use of paper flowers. This, over time, has paved the way for newer types of bridal bouquets such as cascade bouquets, making flowers more and more accessible.
The cascade bouquet is normally made of roses and carnations which makes the bouquet quite long and heavy, meaning the bride would carry it with both hands. Over time this possible inconvenience has made way for hand-tied bouquets and arm bouquets, also made of carnations and roses but considerably lighter.
Bridal Bouquet
How do you choose the right flowers for your very own special day? Before you begin picture the ideal bouquet in your head, the flowers of your dreams. With this in mind, give your florist as much information as possible on the flowers you like, the theme of your wedding, colours and details of your dress; this will greatly influence the type of bouquet you choose and ensure that everything works harmoniously.
There are many opportunities around bridal bouquets: eg stems may be visible or be hidden by a ribbon that you can match with the colors of the decoration.
Bridal bouquets with a single variety of flowers or a single color are also increasingly popular and offer a perfect harmony with the style of the wedding.
With professional local florists up and down the country, check out our romantic flowers and take advantage of our same day flowers.