Chelsea Flower Show - Florist of the Year 2013
Silver Medal Winner - Di Marvell of Petals, Margate
This year's brief was to create a never-ending circle inspired by something or someone associated with Chelsea.
The inspiration behind Di Marvell's piece was garden designer Andy Sturgeon* who has won numerous awards at the RHS Chelsea Flower Show including six Gold Medals and the coveted 'Best in Show' award.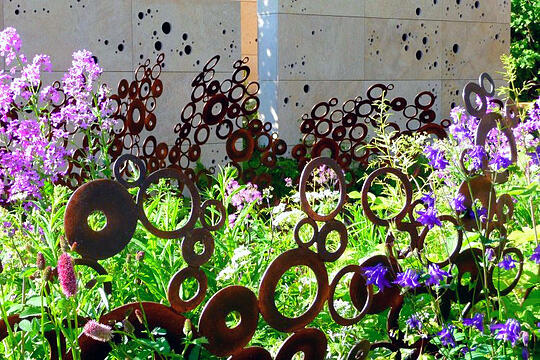 Di commented: Last year's garden was a particular influence on my design with the use of copper circles as sculptures throughout the garden along with a beautiful planting and colour pallet.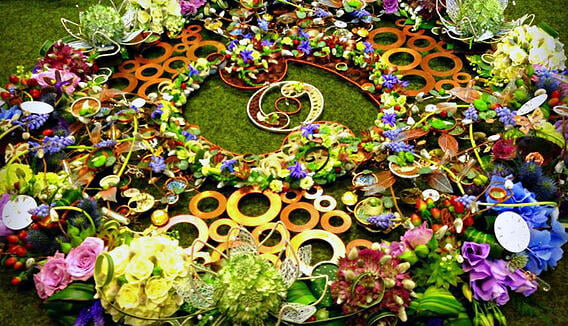 The floral ring is designed to represent the preservation of old and new. Copper discs with the dates engraved representing specific key years at Chelsea Flower Show whilst the old pocket watch parts, wheels and cogs represent time.
Tiny silver watering cans, trowels and rakes were incorporated into the framework along with Chelsea pensioner uniform buttons.
The hard work really began when I incorporated all the flowers. Hyacinth, Alpines, Kalanchloe Flowers, Hypericum, Astrantia, Roses, Lisianthus, Trachelium and Hydrangeas to name but a few.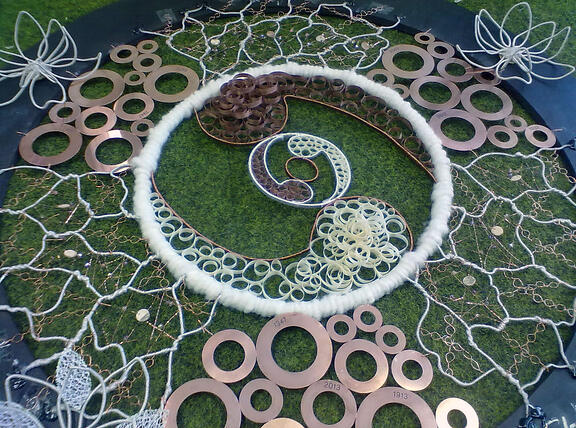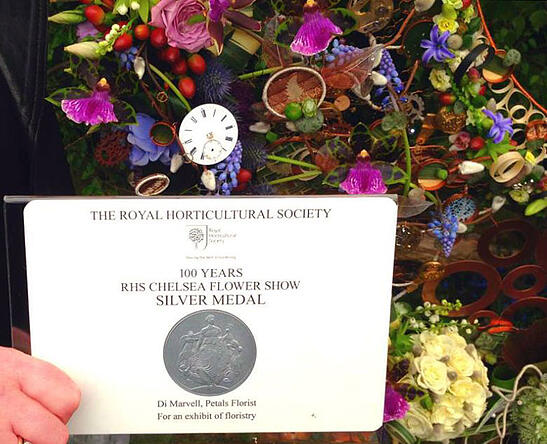 Congratulations Di on a truly marvelous and ingenious piece.
*Andy Sturgeon is one of the world's leading landscape and garden designers. Named as one of the top 10 garden designers in Britain by both The Sunday Times and House and Garden magazine, Andy was also made a Fellow of the UK Society of Garden Designers in 2011.