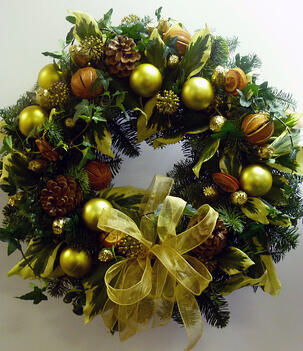 In 1839 a man called Pastor Johan Heinreich Wichern had the idea of creating a wooden wreath with 19 small red candles and four large white candles, signifying the 24 days of advent.
The Christmas flower wreath as we know today didn't become commonplace until the 1860's, when pine branches, red ribbons, holly and pine cones were used.
The colour of the candles used carries differing significances in different cultures. In Sweden for example, the candles are traditionally white as a symbol of celebration and purity.
The Christmas wreath is traditionally characterised in the following ways:
The round shape signifies the sun and the announcement of its return
The four candles represent the four Sundays in advent, the four seasons and the cardinal points of the compass
The greenery used amongst the Christmas Flowers represents nature and the signs of hope and renewal in these long winter days
Holly symbolises the crown of thorns.
Why not take the time this festive season and make your own Christmas flower wreath? Let your imagination loose and create a traditionally inspired wreath conveying the spirit and light of Christmas. Natural plants and materials such as branches of pine or fir, azalea, cyclamen and poinsettia; also known as the Christmas Star, are all lovely choices. Remember to position candles safely to avoid any risk of fire or accident!
If you want inspiration or if you want our professional, local florists to deliver a lovely bouquet of Christmas Flowers, take a look on our website at our Christmas collection for a choice of divine colours and luxurious chocolates.