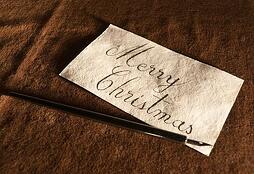 We all get writer's block from time to time but we probably feel it the most at Christmas when faced with a pile of cards we need to get written and popped in the post before its too late. If you're anything like me, it will be the job you keep putting off in the run up to Christmas. Stumped with what to say, wanting to be original, heartfelt, sincere and at times cheeky, one card can be hard enough but at Christmas the task can seem overwhelming.
Finding the right words can be difficult. It could be that there is so much to say we don't know where to begin or perhaps we feel like it's all been said before. Whatever the reason help is at hand! We have compiled a list of Christmas card messages for you to choose from. From the quirky to the cheeky, the traditional to the heartfelt, we think we've got something you can use this Christmas.
Pick your favourite Christmas card message from our online list and send your Christmas flowers this year with a card that says it all.