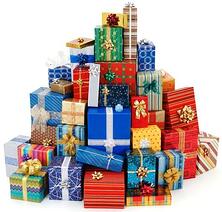 For many, Christmas is all about the giving of gifts, the tradition of course originating from the Bible, when three wise men presented gifts to the baby Jesus.
Christmas shopping can be an enjoyable part the proceedings but now more than ever, shopping online has become a convenient and easy way to save time and reduce the stress of last minute shopping by avoiding the hustle and bustle of the ever increasing crowds on the high street.
It can of course be difficult to know what to buy for some people. What do you give relatives and friends for example who don't know themselves what they would like? And there are always those that say they don't want anything but you still want to send them something, particularly if you cant be with one another at Christmas.
Christmas flowers make wonderful gifts for those difficult to buy for people. Fresh, fragrant, seasonal and absolutely stunning, created by experts and hand delivered on your behalf, flowers really do make ideal gifts. And if you think that in themselves flowers aren't quite enough, well just add to your order a box of chocolates, a teddy bear or a vase to make the gift complete.
Click here to see our incredible range of Christmas flowers and gifts now available online.