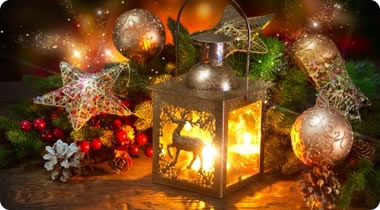 Christmas markets
November has arrived and soon so will the Christmas markets! Already the atmosphere in towns is changing, shop windows are slowly filling up with decorations, days are shorter and colder and people are staying in, surfing the internet for the cheapest Christmas shopping. While you may find the bargains online, there is no place quite like a Christmas market to feel the Christmas spirit.
A bit of history
Created in Germany in the 14th Century, they were first known as the 'Market of St Nicolas' and took place in December and traditionally the markets began on the first Sunday of Advent. The market in Dresden, Germany is one of the oldest and most well-known Christmas markets, followed by Strasbourg, Heidelberg, Aachen, Nuremburg and Stockholm also attracting huge crowds of visitors from all over Europe.
The reinvention of Christmas markets happened in the 1990's with the creation of Christmas villages with wooden chalets, Santa's grotto and artisans presenting local and regional products. Nowadays, many cities and villages organize their own Christmas markets to celebrate the traditional sights, sounds and scents of Christmas in the lead up to Christmas.
The Christmas spirit
From the late afternoon, the Christmas market is a popular, magical place to be. A festival of lights, music and scents create a magical atmosphere. You will find all kinds of Christmas gifts for the whole family, all friends and colleagues, from traditional hand-made wooden gifts to funny Christmas clothes, Christmas gift ideas for all budgets! In the Christmas markets, artisans love to show off their know-how and you will find everything you need to decorate your Christmas tree and your home with Christmas flowers, wreathes, baubles and candles. The idea of the Christmas market is that people can re-live tradition, be inspired and to find the touch of originality you don't find in other shops.
In the major cities, there are limits placed on what can be sold in the different chalets, mainly food, traditional or wooden toys, Christmas decorations and clothes. You can spend hours walking around Christmas markets, drinking hot chocolate or mulled wine, eating gingerbread men or roasted chestnuts and listening to Christmas songs while you search for the perfect Christmas card. You'll be sure to find yourself in the Christmas spirit after visiting a Christmas market.
Fun
The Christmas market is, above all, a good place to spend time with family and friends. Every year Christmas markets attract thousands of visitors all getting into the Christmas spirit and sharing the Christmas feeling. Christmas songs may be cheesy and make you roll your eyes but it's tradition and the Christmas markets are all about having fun, getting into the festive spirit and spending time with those you love.
Just like the Christmas market, our online flower shop is open to you to help find the best Christmas flowers and handmade Christmas gifts to be delivered to your friends and family. Enjoy, and make someone happy with your Christmas cheer.