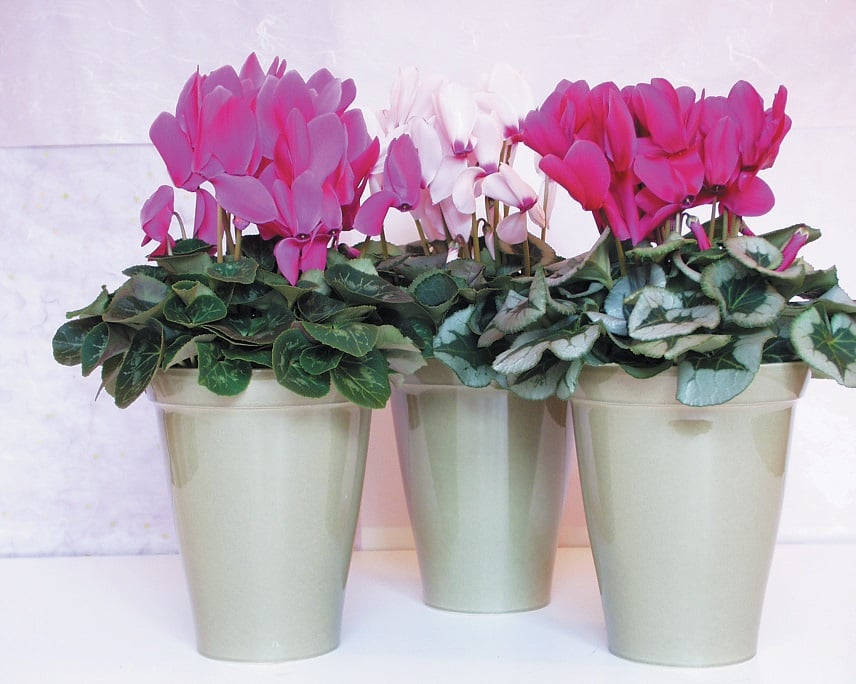 Autumn is here and though the temperatures may drop, the heating may come on and that thick jumper is taken out of storage, it brings its stunning colors and flowers. Autumn is a wonderful season to take full advantage of the cyclamen, this is the period where everywhere in nature (garden, forest) you can see blooming cyclamen. This perennial tuberous plant has about 23 different species that you can find mainly in the Mediterranean area and Asia. This plant was introduced to Europe in the sixteenth century and cultivated in the botanical gardens of Queen Elizabeth I.
The leaves of cyclamen are especially recognizable by their mottled white face and a design center that can evoke a Christmas tree. The leaves grow in circles where pretty flowers emerge on a thin stem and the flowers can be red, white, pink or even mixed.
When cyclamen are planted directly in soil in the garden, they enjoy the shade of trees and require little care; simply remove faded flowers and leaves and give them a little light. Your local florist will have cyclamen in a range of colours and presented many ways and are very popular ornamental plants. Their bright colors are great for a good mood and positive mental attitude and bring a touch of happiness and light to any room during the long winter days. Flowering lasts from 1 to 2 months.
Care
The cyclamen is an outdoor plant and they don't like overly warm conditions akin to our homes in the colder months. They benefit most from cool, airy locations with a moderate temperature. Furthermore, they don't like places in which they never see sun or the cool breeze but with the right conditions you cyclamen will be more than happy inside. Consider occasionally placing in on the windowsill of an open window during the day when the temperature has dropped a little. Be cautious not to leave your cyclamen exposed to the frost once the cold sets in.
Watering is the key to a lovely strong cyclamen; not a fan of excess moisture, avoid leaving water in the pot or plate. When watering your cyclamen we recommend you avoid pouring water directly on the centre of the flowers, this can lead to rotting and the development of bacteria which can be fatal for the plant. Excess moisture and excessive heat are the key factors to the development of the number one enemy of your cyclamen, bacteria. The perfect balance is moderate but regular watering and removing faded flower heads by pulling firmly on the stem.
Warning: cyclamen contains cyclamine, toxic if ingested and can cause nausea and vomiting. The largest concentration of toxic lies in the tuber.
Did you know

In Japan, the cyclamen is the sacred flower of Love!
Plants of all varieties and colours bring nature and happiness and colour to any room. Check out our plant collection and send a lovely colorful planted arrangement to someone you care! Our online flower shop is open 24/7 and in a few clicks you can order flowers to be delivered on the same day by our professional local florists.