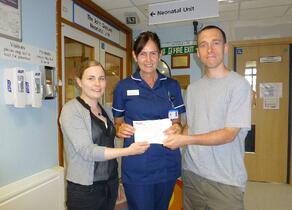 Charity fundraising is important to eFlorist and making a difference to lives is as important as making someone's day.
Following on from the recent achievements of the Race for Life team "S-Miles for Miranda", Paul Isaia and two friends took part in the demanding 54 mile London to Brighton bike ride on June 16th 2013, alongside 28,500 other cyclists. Raising money for Winchester Hospital's Neonatal ward after the tragic loss of his son Peanut, Paul and his friends managed to raise a stunning £2000.
Thanks to their incredible achievement, Winchester Hospital received an amazing new resuscitation trolley, with easy access to crucial lifesaving equipment, reducing the time taken to provide the emergency care new-born babies may require.
You can read more about Paul and Beckie's story here.