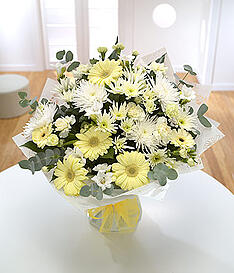 How can you express your condolences?
The loss of a friend, colleague, relative, neighbor or loved one is a particularly tragic moment. Be it accident, illness, suicide or even sudden death, being there to support those left behind is very important but most of the time we don't know what to do to express our sympathy. What we say and do depends on so many things such as how well we knew the deceased.
How to write condolences:
We can offer condolences in different ways, either by mail or by phone if you are close to the family, avoid texting or emails, these methods are too impersonal. You can go to the funeral home before the service, and/or attend the funeral. It is also recommended to send a sympathy card. For writing condolences, it's best to keep it simple and avoid long pages. The goal is to support the family and show your compassion and your feelings.
If you choose a card or letter, choose a neutral paper. Condolences should always be hand-written with a focus on dark colors, black or blue, never write condolences in red, pink or green, for example. Be careful about spelling and take the time to read and check your letter before sending it.
It is sometimes difficult to talk about the deceased, it is best to use the name or name/surname especially if you had close relationship. If it is a simple card, present your condolences and add a few words of support to the family. In a longer letter, you can write more personal words, like memories of good time shared with the deceased, or even a few anecdotes. Always keep in mind that your mail must be a comfort to the family and a way to help them in their grieving process. Evoking the good times is one way to do so. They may find it assuring if you were to highlight the qualities of the deceased, why they were the loved person they were.
Very often during the ceremony, a book of condolence is available to attendees. You can add a message or drop off a card or letter if you do not send it by mail. In this case, always insert it in a closed envelope, write the name of the deceased or family above and provide your contact information on the back so that the family can get back to you if necessary.
The language of flowers to express your condolences:
Once the date of the ceremony is known, consider ordering your funeral flowers, except if the family or deceased requested no flowers. Traditionally, white or pink flowers are preferred for children, red flowers, orange and purple for adults. Wreath, cushion, spray, posy, basket and bouquet are the most common condolence and funeral flowers. There are also many arrangements like plant arrangement that can be put directly on the grave. The casket spray and urn decoration are usually used by the family. Basket arrangements are very often choses as a tribute suitable to be sent to a Cremation.
Condolence messages:
Knowing what to say can be difficult, often it is the case that less is more, though you may feel something more personal is more appropriate, perhaps casting your mind back to a shared memory or good time. If you are unsure how to start, we've listed a few examples below to help:
Gone but not forgotten
Forever in my heart you'll stay. Loved and remembered everyday
I know you are in better hands now but I still wish you were in mine
Our hearts are filled with sorrow.
Though our days together are over I will remember you always with love
God took you in his loving arms. He saw you needed rest. His garden must be beautiful for He only takes the best
A simple wish that you were here.
Find all our suggestions for condolence messages here.
View our flowers for funerals or condolence flowers that are hand delivered by one of our professional local florists and let someone know you are thinking of them at such a difficult time.