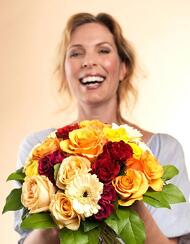 A great way to make someone smile, let them know you are thinking of them or how much you love them is by sending flowers. With our flower deliveries starting from as little as £14.95, you can make anyone happy.
On the topic of shopping, it's important to know where your money goes these days, every penny matters more than ever and it pays to be mindful of what you're buying. We recently posted about how to ensure you stay safe while shopping online, it's also worth knowing how to make sure you get the best deals whenever you shop.
Voucher codes
Voucher codes are easy to find and worth searching for as they can be the quickest and easiest way to shave off a few pounds. You may receive them in emails from companies you've previously shopped with but you may have to do a little looking around to get some deals too.
Cashback
Cashback while shopping is something that has taken off hugely in the past few years. When you place an order on a website having found it through a cashback provider, you can get massive discounts.
All you have to do is visit the website you are shopping from through a cashback provider and the order will be tracked. You can even keep track of the savings you have made and see where other people are making the most savings!
Shop around!
It's tempting to visit the websites that you are familiar with, but to make sure you get the best price, it's worth looking around as they may not be offering the best price for convenience. Though if you are using a website you haven't shopped with before, make sure you take a look at any reviews you can find for that website and stay safe!
We want everyone to receive flowers and to help you make someone's day, catering for budgets of all sizes, whether you want a luxury bouquet of red roses or a small token of thanks, we offer the finest cheap flowers delivered.
Sending flowers has never been easier and you can make sure to bag yourself an amazing deal this Valentine's Day and make someone happy whether it's around the corner or around the world.