O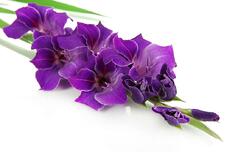 riginating from South Africa, Gladiolus is classified in the iridaceae group, made of more than 260 species. The name Gladiolus comes from Latin and means "sword" which refers to the typical sword-shaped leaves of the flower. Its flowers grow on tall spiked and are often found in cutting gardens or in the back along the border. Gladiolus have many different colored flowers and grow very high. These flowers are suitable for tall bouquets giving them a proud and extravagant touch.
Symbols
The gladiolus has an extremely heroic meaning. This flower stands for victory and pride, the meaning originating in Roman times. In the arena gladiators fought literally for all or nothing, so either he was killed or he had to kill. If a gladiator won, he was showered with gladioli. Even now we know in cycling participants are overloaded with gladioli when they cross the finish line.
With history that spans from Africa to the Mediterranean symbolizing strength and moral integrity, the gladiolus also represent infatuation with a bouquet conveying to a recipient that they pierce the giver's heart with passion.
Flower language
When offering a bouquet of flowers with gladiolus in the middle, the number of gladiolus that you put gives the time for a meeting or love rendez-vous!
Using colors you may express
Mixed gladiolus: strong and extravagant love
Yellow gladiolus: love invitation
Orange gladiolus: strong and sensual love
Red gladiolus: express the strength of your love with an erotic touch
Pink gladiolus: success and love date
With gladiolus, you can just say that "you pierce my heart"
The gladiolus is a typical summer and early autumn flower. With its grand and exuberant characteristics the flowers fit easily in a nonchalant or airy summer bouquet.
Check our summer collection in our online flower shop and find the perfect gift. Our local florists will deliver it in person with your personal message. Who will you make happy today with a flower delivery?