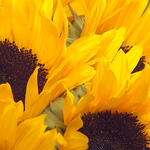 Are you responsible for organizing a birthday party and you're not sure how to do it or where to start?
1 – Be prepared
Whether it's a birthday at home or outside, the principle is the same. The more you prepare in advance the better. The risk of not being prepared is that you spend too much time in the kitchen or running around on the day and abandon your guests. If you need to send invitations, plan to do it as early as possible, depending on the number of guests and the location. Remember to provide a desired answer date and specify the guests to confirm their attendance. For lunch or dinner, it's a key success factor to make a check list: appetizer, cocktail reception, buffet, sit-down meal? If you use a caterer, look at everything in detail and plan some more food and a delivery schedule not to stress before the guests arrive. If you decide to cook, prepare your dishes well in advance and freeze them if necessary. Spare a moment to relax, breath and do your makeup. The same for decoration, if you choose a specific topic, consider writing a list of items, tools, decorations to remember - especially if you are not on site. There is nothing more stressful than being without tape or tacks lost in the middle of nowhere! Consider the choice of flowers to decorate the room, table or buffet. You can do it yourself but a good tip is to leave it to a professional and be inspired and advised by your florist, flowers
are essential for great decoration!
2 – Welcome your guests
Remember that it is up your task to welcome guests. If you're stuck in the kitchen or not ready, it can be frustrating or embarrassing for your guests to stay alone. It is also your role to introduce them to each other, especially if all the guests aren't acquainted. If the birthday party is held at home in small groups, you can start the conversation about usual topics likely to launch the evening and create a pleasant atmosphere. If your guests arrive with gifts, a bouquet of flowers, pastries, chocolate or wine, don't forget to place them on the table or gather in one place and even open them in front of guests to show your gratitude.
3 – First drink
It can be started without waiting for the arrival of all guests unless the committee is very limited. The aperitif is a starting point where people start to discuss together while waiting for the others. Whether you have organized a buffet or a cocktail party, petits fours, toasts and other presentations in small glasses are the first things that will mark your guests happy. The aperitif should be carefully prepared but not too filling otherwise people will not be hungry anymore! When it comes to alcohol, the measure is also required to extend the evening! If you have a formal dinner, don't forget to dress a nice table, according to your choice, you can opt for a free seating plan or placed guests. In this case, attach a particular attention to the seating plan which can be a real headache!
4 - Encourage the atmosphere
The atmosphere is a key success of your birthday party. Obviously the number of guests, venue and theme are important points to consider. If you rent a dining room or a village hall this will allow a longer duration and allow for more noise. You don't have to have lots of guests to ensure a great atmosphere, sometimes less is more! Please be careful about the choice of music. Again, the key word is anticipation. Make playlists or compilations in advance that you will sort out by theme. For example a playlist "Lounge" that you can play during the aperitif or meal without disturbing the guests. Once the meal is finished or during the buffet, you can expect a small dance floor!
5 - The Gifts
For your birthday party, you need a cake, candles and gifts! A birthday surprise is the great gift, but when it is you who organize or receive, do not forget to take a moment to open your birthday present. If some guests brought flowers, place them prominently near the buffet for example, or on a table. If appropriate, a quick speech to thank your guests and people for joining you for this special occasion. Most importantly, have fun, enjoy these fabulous moments with friends, family and colleagues.
Birthday flowers are essential to make it a great party! Ask your florist for help or recommendation for birthday flowers.