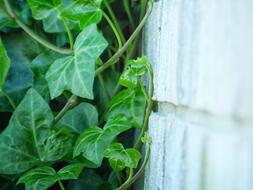 Hedera is so flexible that you can build long relationship with that plant! It is a plant that you can easily guide to make the desired shape with only a few simple and regular care tips. This plant is thankful and faithful to the person who cares, almost without asking anything in return. A robust plant that is best known under its common name Ivy, we cannot say that such a plant is just an invisible decoration piece. Hedera is better than that, hedera will make any space like focal point and eye catching centerpiece. Its beautiful leaves exist in many variants, such as bright yellow with red petals or heart-shaped green leaves and speckled yellow color.
A little botany
From the family of araliaceae, ivy is a vine tree, one of the only ones that can be found in Europe. Much like it's relatives, it grows by climbing and creeping up woody stems and buildings. Growing up to 30 m long and 25m high are some of the largest plants in everyday life. Ivy evergreen leaves fall on average during the sixth year. The branches have a kind of hair or suckers clinging to walls or trees; but contrary to mistletoe, ivy is not a parasite. Some ivy bloom in September-October producing yellow-green flowers in clusters. Then if you look carefully in autumn you will see many bees around the flowers. Ivy is extremely useful to keep the biodiversity around us and more importantly to ensure bees' survival. The climbing ivy, produces small fruits, berries blue-purple color, which are highly toxic to humans and it absolutely must not be eaten. Aside from their toxicity, either as a depolluting plant, ornamental plant or outside in nature, ivy can adapt to any environment!
A binding plant
The romantic medieval legend of Tristan and Isolde reports that Hedera grew on their graves, to climb against the wall of the church and unite above the roof. Hedera is the ultimate binder that will stay with you as an eternal bond.
Originality characterizes your home
The Hedera is the most perseverant plant, highly connected to the hand that gives its shape step by step, little by little without complaining. Hedera is very flexible and can follow all conceivable forms. This plant will give any interior a unique character, following precisely the will of its owner.
What to do in return
• Give a little light to keep the leaf design
• Water once a week, enough for the root ball to stay moist
• Each month add some fertilizer to the plant to help it continue growing from strength to strength
Send flowers and plants to your loved ones or friends to let them know they are appreciated and remembered. Sending a plant is a strong symbol of long lasting relation. Check our plant collection and make someone happy today!