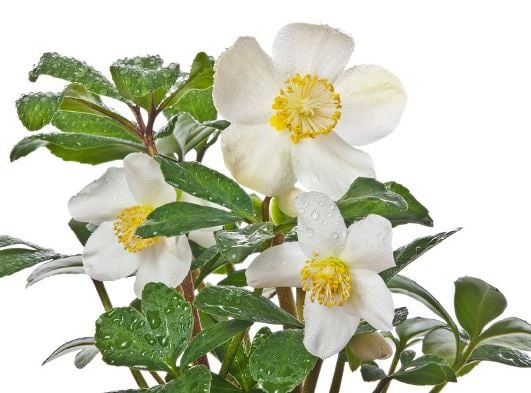 Winter is here with its cold temperatures and signs that nature and plants are dormant. During these days short of light and warmth, there is a plant that survives giving us its best colors and love: the hellebore. Absolutely unphased by the frost of winter, the hellebore or written sometimes 'elebore' gives its best during winter.
Originating from the Mediterranean regions of Europe and Western China, the hellebore is from the renoncule family group, which translates to 'buttercup'. There are over 15 species of this perennial evergreen plant, among them beautiful colors such as red, pink, purple or white bring joy and colors in our long days in winter. The hellebore blooms from December to April, or even early May for some specific varieties.
Easy-going plant
Despite its fragile appearance, the hellebore is an easy and undemanding plant. As long as you respect basic requirements, you will have plenty of enjoyment of this plant. You should avoid placing your hellebore in a windy exposure and be careful to provide the plant with fertile soil. One idea is to place it under deciduous shrubs, no need for too much sun as the hellebore appreciates shade and darkness of winter days. You will even be most surprised to see that your hellebore will have very beautiful flowers even under a layer of snow, earning in the name 'Christmas Rose'. That's one of the reason why this plant is so appreciated in winter and around Christmas!
The Christmas rose
The other name of the hellebore is the Christmas rose. This is the most popular variety, the Helleborus Niger, this Christmas rose is pure white with a shade of pink. The black or 'niger' refers to its roots that are really dark but the flower is as white as snow and many florists like using them in their Christmas or winter bouquets. With stems up to 30cm, this is a flower that is also suitable for Christmas tall arrangement with amaryllis or ornithogalum for example.
The legend of the hellebore
"The night of the birth of Jesus Christ, Madelon, a little shepherd guarding her sheep saw the Magi and other shepherds the arms full of gifts, crossing the snow-covered field where she was. The Magi had gold, myrrh and frankincense; the shepherds were bringing fruits, honey and doves. Madelon realized that she had nothing to offer to this newborn, not even a single flower. An angel saw her tears, and brushed the snow away revealing a very beautiful white flowers with a shade of pink: the Christmas Rose".
Tips
The hellebore is a toxic plant, so you should exercise caution with children and animals. Our ancestors thought that the hellebore had therapeutic properties supposed to cure madness, hence the lesser known name of "Madmen Herb" that we still see today in some botanical or gardener books.
Bring joy and warmth to your friends, loved-one and relatives, send flowers either for Christmas or just in the middle of winter, flowers are a perfect gift for all occasions.