Kidney Research UK's GO Purple campaign on World Kidney Day (March 14th) proved a great hit with florists and staff alike. Never one to turn down a fundraising event, we were keen to show our support and make a difference by taking part in a series of incentives inspired by our partnership with the charity.
For the florists there was the chance to GO Purple for the day with a purple themed window display competition. With banners, balloons, flags and contribution boxes provided by Kidney Research UK, florists signed up to take part and to show their support, creating stunning purple shop fronts adorned with purple and lilac flower arrangements.
Christine's Florist of Suffolk hit the headlines in the local press with their stunning window display and subsequently went on to win first prize with Daisy May Florists of Bedford coming in a very close second.

At eFlorist HQ staff also decided to GO Purple for the day too. Charity bidding started in earnest on a variety of events and goodies which had been donated, but in timed honoured tradition it was the fancy dress car wash auction which went down a storm with a bit of twist to the usual proceedings this year. Staff began nominating people to take part and with the option of choosing a fancy dress outfit too, the stakes were high.
All in all we raised a fantastic total of £530 on the day. Well done and huge thank you to all who took part.
Note: Car washing will as usual be done out of office hours and all fancy dress items will be provided by staff.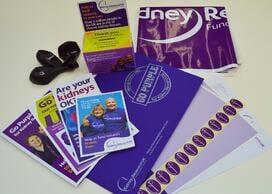 Please don't forget you can still help by becoming one of our charity partners by displaying a Kidney Research confectionery box containing a selection of sweets your customers can buy and a collection tin to encourage people to part with their loose change. Please ask your ASM for more details.