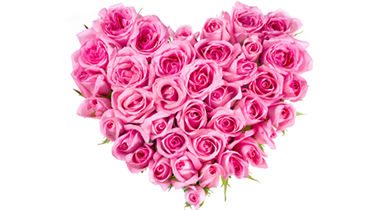 Valentine's Day is just around the corner and already the mood is changing. Everywhere, red hearts stand their ground in shop windows, cupid and his bow invade websites, newspapers and emails and the radio is playing love songs. Love is in the air. It's time for you to reveal your romantic side and show your love for your partner to the world! For those of you who are less romantically inclined, though Valentine's Day is here again, worry not, we've got a few tips to help you get through Valentine's Day.
Valentine's Day is yours!
Valentine's Day is in less than two weeks away now, you can't escape that fact. You may have already planned to express your love by arranging an unforgettable romantic surprise but if you haven't, what's the best way to say what words cannot?
It's a fact that the language of flowers is one of the most universal languages in the world, and arguably one of the most beautiful. Love is flowers and flowers are love. There isn't a better way to express your feelings, making your partner happy, feel loved and more importantly remembered than a gorgeous bouquet of flowers delivered. Why not entrust our florists to make your Valentine's gifts delivered complete the best Valentine's Day you've had?
If you're looking for a Valentine's gift delivery, a beautiful gift that perfectly tells your partner how you feel that somehow words can't summarise, our florist delivered flowers are the ideal choice. Select a bouquet of flowers that you know will make him/her happy, if you know their favourite flower this can help your decision making, or take the classic route with red roses, pink lilies.
What do you say with flowers?
The flowers, if chosen properly, will often say more than words ever could but it is vitally important to get the right message. Many people choose to adopt the mysterious approach when it comes to the message sent, signing off as a secret admirer, or simply just signing the card message with a question mark. If you are sending flowers as part of a grand, romantic plan for Valentine's Day, why not take this opportunity to reveal the next step of your treasure hunt, where you will be treating your special someone to a romantic meal or even a grand proposal if the time is right? We are the one stop shop for all of your Valentine's gift ideas, if you need inspiration for what to say with the flowers, have a look at our Valentine's Day messages!
We're very proud to offer an extensive network of local florists that comes with a very diverse set of skills. Last Valentine's Day a customer requested a love song be sang when he had his Valentine's flowers delivered. Our local florist did it! When the lucky recipient opened the door, there stood our florist with the most beautiful bouquet of red roses while singing 'Love is in the air', that's wow!
One of our florists in partner network Telefleurs made dreams come true for one Australian couple. He contacted our service in preparation for a grand proposal to his partner and wanted advice for Valentine's gifts delivered. It was organised for flowers to be delivered to the Eiffel Tower and she said yes!
Anti-Valentine
For some, Valentine's Day can be a reminder of an ex, it's a plain stupid occasion or you and your partner see Valentine's Day as superficial. If that rings a bell, we're here to help everyone!
Join an Anti-Valentine movement, themes range from anti-romance to completely off-topic nights, movie nights for example
Plan a really great evening out, a dinner party with other people with the same views on Valentine's Day as you – you're not on your own on this one!
You may dislike Valentine's Day, but does anyone really dislike receiving flowers? Be selfish, buy yourself a beautiful bouquet of tulips or mixed gerberas, you deserve it, a Valentine's flower delivery!
Treat yourself generally, book an hour at a spa and get a massage!
Our advice, if you and your partner aren't celebrating Valentine's Day, make sure they know so they are not disappointed.
Celebrate friendship, love and all relationships, not just romantic!
Most importantly, have fun, make it your own day with our own way of celebrating and you might even start traditions that last you a lifetime. We're here to help and have everything you need to send a smile and deliver flowers to friends or relatives. With a fresh flower delivery, a gorgeous bouquet of red roses or a stunning arrangement of lilies, you send more than words.