Now that all the hustle and bustle of Christmas and New Year have passed, a great way to find inspiration and make a fresh start – without committing to a strenuous New Year's resolution that may, or may not last the month – is with fresh flowers!
So, if you don't fancy joining the gym; or doing something 'out there' like sky diving or bungee jumping; or the very thought of giving up chocolate is just not for you, one thing you can do to welcome in the New Year is treat yourself, or your loved ones, to something to make you feel a little warm inside on those dull January days (with no added calories!).
What better way to kick start the year, and all the exciting things to come, than with the colour and beauty of a bouquet, aqua pack, basket or boxed flowers delivered to your door. Or, how about a stunning birthday surprise for someone special!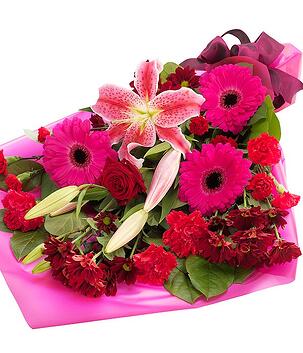 The flower most associated with January is the carnation which is said to symbolise love, fascination and distinction. Put this together with the birthstone for this month (Garnet) and we've got some gems to choose from for a precious birthday bouquet. Our 'Temptation' bouquet with red carnations cannot be resisted; the rich colours of 'Pure Passion' will leave a lasting impression; or you can set the scene for an early romantic gesture with generous 'Kisses'. Of course, a birthday bouquet of 'Kisses' can only be followed up for Valentine's Day with rich ruby roses! How about a sumptuous 'Divine' bouquet or 'Ultimate Love' with red roses galore?
Although January may not appear to be the most popular month for a wedding in the UK, many still plan a winter wedding to spend the rest of the year – and their lives – with the one they love. Whether it's a glittering Winter Wonderland or a wedding theme full of vintage ambience, a memorable event will fight off the post-Christmas blues this year and in years to come as each anniversary is celebrated.
'Ice cream scoops' of peonies make a great wedding feature flower, especially paired with gardenias and hydrangeas in shades from pure white to sugar almond green, shades of pink, purple and burgundy wine tones. The romantic rose is always a perfect choice for weddings, and, for a seasonal twist can be complemented with winter berries or foliage. Or, for something completely different try thistles, dried poppy heads, bay and brassica!
Whatever you do this January, make it warm and wonderful as the Spring blooms will soon be here to the peel away the darkness of winter.