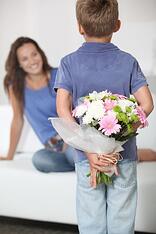 In the 15th Century, people celebrated Mothering Sunday firstly at the beginning of Lent, and secondly on the 4th Sunday of Lent. The tradition of celebrating the importance of family, fertility and togetherness has been accredited to the celebration of 'Childrens' Day', a tradition that began in France is 1897 and has come to be known as 'Son and Daughter Day', though still a relatively small occasion. Following periods of conflict throughout history, the value of family was emphasised to boost morale, national pride and to boost population.
We wrote previously about Anna Jarvis in 1908 creating Mother's Day in the USA in memory of her mother after campaigning tirelessly for more recognition for mothers everywhere. Mother's Day was officially introduced to the UK in 1914, followed by Germany, Belgium, Denmark and Scandinavia in 1923.
It is believed that World War Two was the catalyst in the sudden increase in popularity for Mother's Day, soldiers from the US and UK introduced it to comrades, towns and villages while abroad by sending flowers, gifts, cards and letters to their Mother's and families at home.
The tradition for Mother's Day that springs to mind in this day and age is for Children everywhere to send small gifts they have created themselves, often now included in the curriculum, but to also show love, care and appreciation by sending flowers and helping out around the house.
Unconditional Love
Mums are unique, a mother always shows unconditional love for her children, but while a Mum's love is infinite, the heart of a mother is as fragile and delicate as a flower. Mum's need care, attention and appreciation, but we know that in our busy lives we don't have the time, or it slips our mind, we're fortunate to celebrate Mother's Day, a reminder of how special Mum is. Make Mother's Day a celebration to remember, when you send flowers you send more than flowers, you send a smile and send a message. Have a look at our Mother's Day flowers and surprise Mum with a beautiful bouquet of her favourite flowers.