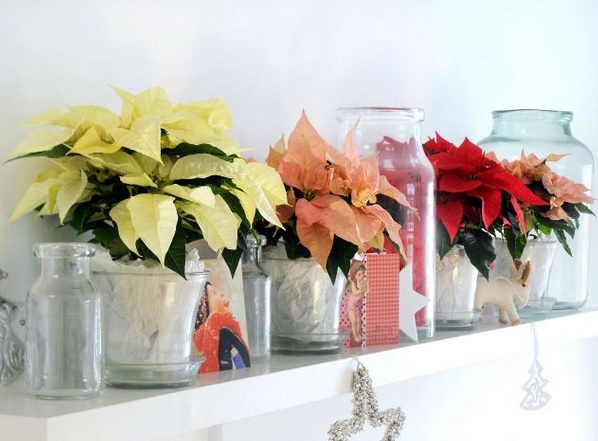 In our planning for the fast-approaching festive season, we interviewed some of our customers in a competition to decide the nation's favourite Christmas flowers. It comes as almost no surprise that for 8 out of 10 people, the flower most synonymous with Christmas is the poinsettia. The poinsettia sees its popularity enjoyed most in the US, in Canada and in Mexico where, known also as the Christmas Star, it's the best seller during the holiday season.
In the US, more than 66 million poinsettia plants are sold every year, contributing a staggering $250 million to the US economy at a retail level. To put this into perspective, approximately 30 million poinsettia plants are sold in Europe each year.
Important facts to know about your poinsettia:
Poinsettias are part of the Euphorbiaceae family
Over 100 varieties of poinsettias are available, in different colors, from the traditional red, to white, pink, burgundy, salmon or multi-colors, marbled and speckled. Some of them have famous names such as "premium Picasso" or "Monet Twilight".
The name Poinsettia is due to John Poinsett, an American botanist, physician and the first United States Ambassador to Mexico. He introduced the plant to the US from Mexico where he discovered that plant in its natural environment.
In Mexico, the poinsettia is a perennial plant that can grow 10-15 feet tall in some cases.
December 12th is the Poinsettia Day, which marks the death of John Poinsett in 1851. Popular in the US, this day is a symbol to offer peace and harmony for the holiday season.
You can offer a poinsettia to thank a friend or a neighbor for the good time shared during the year and the services offered. On the other hand, poinsettia is also a gift you can offer to someone you want to in order to be forgiven.
The colored parts of the poinsettias that most people think of as the flowers are actually colored bracts. The leaves are not the flowers!
Aztec Mythology
Although its origins lie in Mexico where it grows wild, most poinsettia are grown in plantations in southern countries. According to the Aztec mythology there was a goddess who died of a broken heart. Her blood dripped down onto the poinsettia and it thus received it's bright red colour. The poinsettia arrived in Europe via the USA where it was introduced in the mid-1900s. The wild poinsettia is a large shrub, but thanks to continuous cultivation, there are a number of variants that have been developed and are suitable as house plants.
Tips
If you want to buy or send a poinsettia, take care to select a plant with dark green foliage and beware of the signs that leaves can give. Fallen, low or damaged leaves indicate the plants have been handled poorly or have lacked water, fertilization or even, in extreme cases, suffer from a root disease. All these symptoms will affect the life of your plant.
The colourful flower bracts should be in proportion to the plant and pot size. An indication that your poinsettia is doing well and will last is that the flowers are in bud and look fresh. As with a variety of plants, be careful with pets and children, as the poinsettias should not be ingested for they may cause nausea and vomiting.
Care
Are you lucky enough to have received a poinsettia and want to replant it in the garden? Bad idea! This tropical plant is very sensitive to our cold climate and wet soil and much prefers being kept inside. Exposure to the conditions outside can cause 'thermic shock' and can be fatal to the plant. As soon as the temperature goes down to 15 degrees Celsius or less, the plant can suffer and begin to lose its leaves. If you are transporting your poinsettia anywhere, take care to ensure it is well wrapped and protected from the cold. Keep it in a bright spot with slightly moist soil and avoid facing it directly south. Avoid also excessive watering and dehydration.
During the flowering period
Regular watering with warm water, don't let the water stagnate in the pot. Consider adding gravels or small stones in the cup and ensure the soil is always moist.
Balance temperature in the room between 16-20°.
Ensure adequate lighting (preferably 10 hours a day) but not in direct sunlight.
Do not give any fertilizer.
Pro Tip: If the leaves turn white, it's too much water and if the leaves turn yellow, it's not enough.
After the flowering period
Less watering, if not refrain from watering for a short while.
Cut about 5-10cm of the stem off to stimulate further blooms.
Provide fertilizer once a month.
Provide fresh soil.
To encourage new bracts (coloured leaves) it is imperative to keep the plant in total darkness for at least 12 hours a day for several weeks.
First poinsettia are available at the end of November in most flower shops so this is a gift you can already offer for advent or to celebrate a birthday in December for example. It's an affordable Christmas gift idea, making it a favourite among many, ideal to spoil your friends, family, colleagues and loved ones. Our local florists in Aberdeen, Birmingham, Manchester or London can deliver a poinsettia with you personal message at any time before Christmas. Take a look at our lovely Christmas flower range and you can make someone happy with a delivery of Christmas flowers.