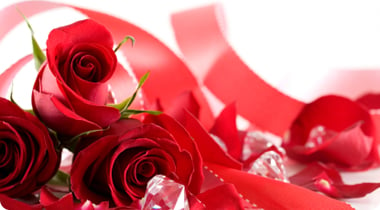 Valentine's Day is almost here, bringing the romantic atmosphere everywhere it goes. You may wonder why red is everywhere – in the press, adverts, magazines, websites, public transport and of course flower shops, everywhere!
Red is a strong colour that denotes desire, passion and love. Its undeniable beauty makes it the perfect choice for a lot of occasions, such as Christmas, but most notably for Valentine's Day. Unlike many other colours, red is everywhere in nature.
Roses have existed on earth for around 30 million years, all civilizations from the Greeks, Romans, Persians to now have shown a passion for this flower because of its beauty, its colour and its fragrance. As many as 90% of people proclaim the rose to be their favourite flower.
You will never go wrong with a bouquet of red roses to show your love for someone.
With red roses saying what words cannot, there's no need to more than 'I love you'. There is no better way to express your feelings for someone than a red rose bouquet delivered. History shows that the red rose has long been considered the most beautiful flower. Did you know Cleopatra used them to clean the carpet in her chambers? Did you know Playing Cards in Alice in Wonderland lose their heads over them?
In the 18th Century, a special rose language arose as a method of communication between lovers whose relationship was forbidden because of arranged marriages and were forced to keep their feelings a secret. For many Christians the red rose is associated with the virtue of the Virgin Mary and so the red rose has become a symbol of true love that will overcome all obstacles to be stronger than anything. Red roses can be found symbolically in classical paintings as well as in contemporary films and used also as symbols of desire and to represent the excitement of new romance.
So you've decided on sending red roses this Valentine's Day, but have you thought which variety, which shade or even how many? These are important questions! The brighter the rose the stronger the love. From a single red rose delivery saying 'love at first sight', a dozen red roses saying 'be my lover' to 99 red roses meaning 'I will love you all my life'.
Red roses are the ultimate gift you need for Valentine's Day to express romance, love and passion. Like Cupid, the red roses will touch their heart and make this Valentine's Day incredibly special, remembered for years to come. Trust our florists to ensure your romantic gifts delivered are as special as they can be,