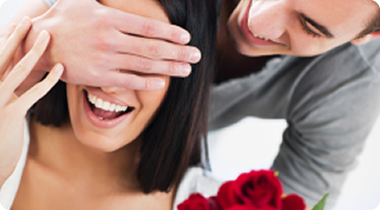 Our busy lifestyles mean it is often difficult to find the time to make those close to us feel happy, noticed and remembered and make full use of our weekends. Somehow, there is always something that is more important, whether it is kids, the house, shopping or just lack of time. Finding time to organise activities, make the most of time together and keep your relationship fresh and exciting. Every now and again it can be refreshing to plan a romantic weekend and really make the most of time with your partner.
For the gentlemen reading this, we know it can be difficult to know where to start so we've come up with a few ideas to get the ball rolling for you romantic weekend:
Local events – there is always a local event on and this is a great way to spend time with the one you love doing something you both enjoy. Let's not confuse local with boring however, local newspapers are a great way to find concerts for new artists, favourite artists and even festivals. If you both enjoy musicals, shows or productions, local theatres have listings that will appeal to just about everyone.
Outdoor and sightseeing activities – If you and your partner both enjoy the great outdoors, surprise them with a sightseeing weekend somewhere you haven't been before. The beauty of these weekend breaks is that they can be done on a very small budget but can be some of the most romantic breaks you can organise. For the more adventurous, consider camping, kayaking, cycling or maybe even skydiving or bungee jumping!
Romantic dates – Imagine recreating your first date, if you're anything like us there is a great chance that there are things you'd change, things you wouldn't say maybe, and this is a great way to share the romance. Book a meal in the restaurant you first ate at together and have a bouquet of beautiful, fresh cut flowers delivered waiting for your arrival.
Surprise them! – Plan a surprise romantic weekend somewhere famed for its romance, Venice and Paris are among our favourites. These days there are plenty of websites offering last minute holidays at fantastic prices and thanks to our international flower delivery service you can have flowers waiting for you at the hotel, anywhere in the world!
Whatever the plan, wherever you go, we're here to help you make your weekend the most romantic weekend possible. Our network of highly professional and extremely talented local florists can send romantic flowers almost anywhere for you and create the perfect romantic atmosphere.