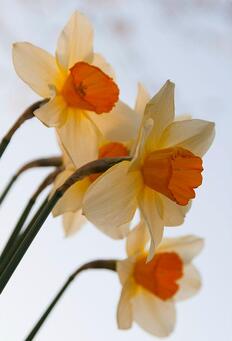 St David has been recognized as a national Patron Saint for centuries, a symbol of the defiance and resilience of the Welsh resistance during the Norman uprising. Celebrated on the first day of March, supposedly since the year 569, the daffodil has become synonymous with the Welsh celebrations.
Many Welsh people wear a daffodil on their lapels to celebrate the life and tradition of St David's Day. While the daffodil is more common, some individuals wear a leek on their lapel, these traditions date back to the Welsh soldiers being able to identify the English enemies.
An interesting fact, the leek and daffodil have very similar names, a leek is referred to as cenhinen and a daffodil cenhinen pedr; literally translated as Peter's Leek.
The daffodil is a spring flowering bulb in the amaryllis family, blooming early spring and available for the St David's Day celebrations. Whether it is part of a bouquet or as a planted arrangement, the daffodil is a lovely, bright flower that can bring cheer to any room.
Much like the tulip, the daffodil is a flower that you can grow yourself, planted in the right soil with plenty of sunlight any time between October and December, you too can have cheery daffodils brightening up your garden in time for St David's Day.
If you don't have time or space to grow your daffodils, check out our Spring Flowers and make someone happy today.