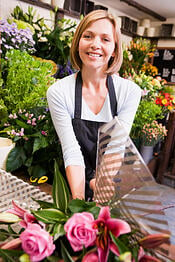 Flowers are an incredible product to work with, with so many possibilities and occasions it's amazing that such fragility can evoke such varied emotions. Living all year round in the middle of flowers, plants and other foliage, the job of a florist is a job that makes you dream.
It's important to learn how to take the best care of flowers, how to know what is required and how to make them perfect for your customer. Florists are not just artists but business-people. Their expertise has to apply in all seasons and for all circumstances that make the rhythm of our lives. New babies, weddings, funerals; the florist is the creative messenger for all your emotions.
Becoming a florist doesn't happen by chance, loving flowers is only the start of it. It is a job that demands creativity, management, commerce and courage!
Florist - a multitask business.
Intermediate between grower and customer, the florist works in the retail trade, having to fulfil technical, artistic and commercial roles all in one go. Maintenance, watering, cutting cleaning, preparation, vases, bouquets, arrangements, window decoration, accounting, management, sales and advice are all examples of just some of what our expert florists must do. The florist must also offer customers the best possible service including a warm welcome, good advice, good price and well-presented products, even a cup of tea on occasion. With such a wide range of expertise, florists ensure they provide the best possible service.
Florists show creativity in floral design and customised products to meet the customers' demands, be in the creation of a simple bouquet, a more technical round bouquet or a "grand décor" floral design for a big event or a large funeral arrangement. Ready-made bouquets are essential for showing off what the florist can do and for drawing in eager customers, but also to demonstrate their ability at tailoring products to meet the individual customer's needs. On top of this, their advice is paramount in ensuring the customer knows what they are buying and how to care for it, getting the most they can out of the flowers.
Flower shops offer not only flowers; while many plants are sold through large garden centres it is always worth looking in local flower shops for beautiful orchids and flowering plants. With made-to-measure advice on watering, presentation and how to plant the flowers, florists are keen to share their passion for flowers.
A day in the life of a florist.
Buying fresh flowers and making sure the flowers and plants their customers receive are the best quality possible means the day of a florists starts very early in the morning at the wholesalers and specialised markets. Many florists visit the markets at least once a week, employing the services of wholesale delivery companies for other days of the week, for example eFlorist Marketplace for eFlorist members. Back at the shop, the work continues with receiving and preparing orders, storing and preserving flowers and meeting and greeting customers and their requirements.
On days such as Mother's Day and Valentine's Day, some florists may not have a chance to sit down for the entire day, with extended hours to accommodate everybody's special occasion and ensure your friends, family, colleagues and loved ones are happy, noticed and remembered.
Becoming a florist.
If you have a passion for flowers, business and people, the life of a florist could be perfect for you. You can visit local colleges for courses in floristry and advice on becoming a florist.
eFlorist members are part of a network of professional florists, carefully selected based upon their skill, choices, quality of flowers and delivery service amongst other strict criteria. With eFlorist, you can send flowers around the corner around the world. Order your flowers before 3pm Monday to Friday for same day delivery from eFlorist.