If you've ever wondered where cut flowers come from and would like to experience for yourself the hustle and bustle of the worlds biggest flower auction trading floor, pay a visit the flower auction in Aalsmeer, Holland. The largest of its kind, the building itself covers over 243 acres (the size of 9 football pitches) making it one of the largest commercial buildings in the world.
Here, 20 million flowers from all over the world are graded and sold every day, half of which are roses (10% more are sold at peaks such as Valentine's, Mother's Day and Christmas). Just remember to get up early though, visitors are permitted in the building from 7am.
Trollies of flowers (below the screens) are shown to the bidders with the screens themselves showing the quantity and price per stem of the products for sale. The huge dials move anti-clockwise, showing the price as it falls for the trollies. Bidders have only a few seconds to hit their buttons to buy the flowers at the price as its shown on the dial. If they wait too long they run the risk of losing the sale. This is where the term "Dutch Auction" comes from. Prices start high and then fall until the bidder accepts the price.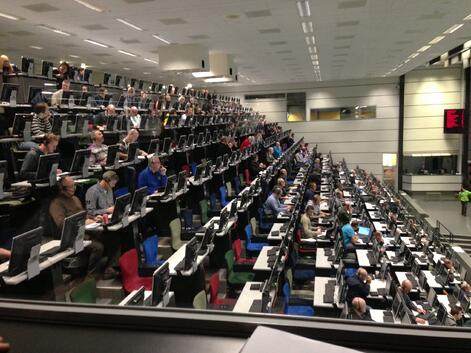 130 miles of track is used to move all the flower crates in the building. This replaced 140 lorries which were used every hour to do the same task.