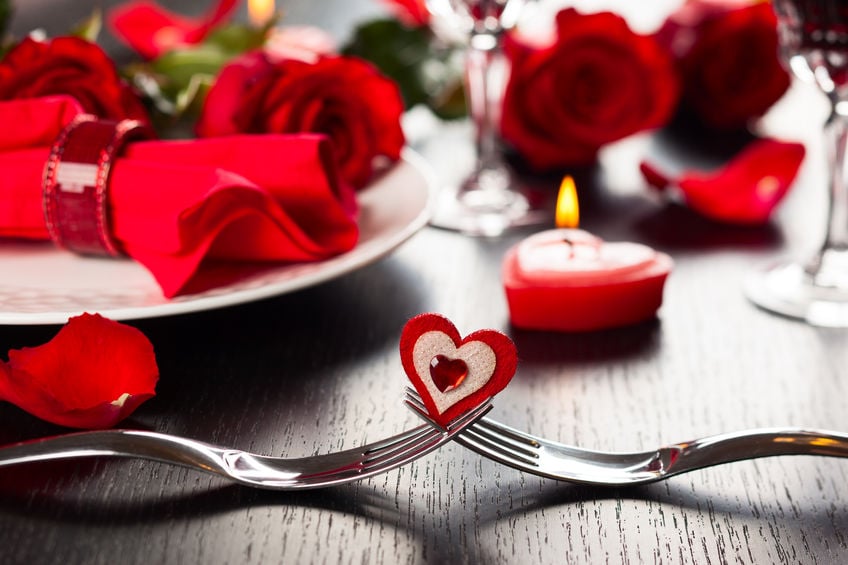 This Valentine's Day is the year you get it right. This Valentine's Day is yours! So you've decided you'll organise a romantic meal for two at home, no over-crowded restaurants, no fighting to be heard and you can be sure they'll be impressed with your cooking skills. We're here to help complete the package!
To really perfect your evening, with just a small plan and an even smaller budget, you can ensure you set the ultimate romantic setting and make this Valentine's Day one they won't want to forget.
First things first – make a list. Ideas, decoration plans, what do you both love? Are you cooking an unsurpassable romantic meal or ordering from the takeaway that you shared on your first date? Plan these details in advance and you can be confident you aren't going to spend the majority of your evening preparing and cooking food, leaving your partner alone.
We've come up with a list of easy, cheap and oh-so romantic gifts and decorations that will create the picture-perfect romantic atmosphere for an unforgettable meal for two:
Hang a garland of hearts intertwined with pink and red flowers
Be it scented, heart shaped or floating, these will all but break the bank and are incredibly effective in transforming any room
Flowers, either single red roses hidden about the place, rose petals scattered around the room, or an extravagant bouquet awaiting their arrival. Roses and petals floating in a nice transparent cup is a quick, effective and inexpensive decoration sure to catch their eye. While 12 roses is considered the standard for Valentine's Day Flowers, have you considered tulips? A cheaper, seasonal alternative to give an original edge to your special evening.
Perfect your Valentine's Daytable setting, plates and glasses can all be decorated with hearts. Be mindful of the colours you use, are you going for full, rich red or red and white, even pink?
Fill small glasses with sweets, chocolates and other treats to be enjoyed following your meal.
Don't forget your Valentine's card and more importantly, don't forget to write a personal message. We don't recommend the cheesier messages but if the sense of humour is right… We've put together a list of Valentine's Day messages to inspire you.
Music is fantastic for setting the atmosphere, try and include a song you have shared at a stage in your relationship for extra brownie points.
Bring the charm. Champagne, cocktails, chocolates will help, but the key to the best Valentine's Day at this point is you!
We can help you with all the flowers, in our collection of Valentine's Day flowers, you can find everything you need to make it special. From red roses, to pink tulips, red bouquets to white bouquets, whatever theme you decide on, we can help. If you want to send flowers to the office to embarrass them, thanks to our local florists we can help you send flowers around the corner, around the world.