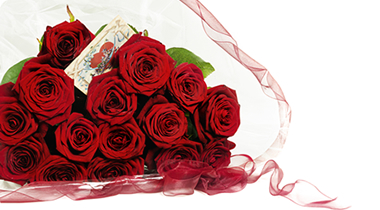 Valentine's Day is just around the corner, February 14th is a day to celebrate our feelings, love, affection and relationships. Traditionally, this is with a thoughtful, romantic gift. You may now find yourself searching the internet high and low to find the perfect Valentine's Day gift idea for your partner or that special someone who may not know it yet.
For Her
Gentlemen, don't forget that that special lady is a romantic, when they say they're not or they don't want to exchange gifts, this is a clue to put that extra thought into the gift. More than 50% of women see Valentine's Day as a day full of love on which roses are sent from a secret admirer, as many as 30% of women even dream of being asked the big question! It's not easy to get Valentine's Day right, but the secret is planning and keeping it a surprise.
Our top tip would be to listen, many women can't help but talk about what they like or what they want to receive, hints will be dropped left, right and center so keep your ears open. We had a quick survey around the office and found that the most common Valentine's Day gift ideas were:
Perfume
Jewellery
A weekend break
Spa treatment and pamper days
Handbags and shoes
Tickets to a concert or theatre performance
Romantic dinners and dates (no fast food now)
Flowers
A common misconception from blokes is that lingerie is the perfect gift, but while this is their dream present, it's not theirs. It wouldn't go down too well if you got the wrong size of style!
One way to a guaranteed successful Valentine's Day is Valentine's Day flowers. Beautiful red roses, gorgeous pink flowers, how much more romantic can it get? Truly the perfect way to say 'I love you', 'be my Valentine', or even just to let them know they have a secret admirer. The best bit of sending Valentine's Day flowers is the surprise on their face when they open the door to a stunning bouquet of flowers or how jealous her colleagues will be when the florist delivers the flowers to the office in front of everyone.
For Him
So you've decided to treat your gentleman to a special Valentine's Gift, after all it's not only for the ladies, it's about romance, partnership and celebrating love, he deserves to be a part of this too. Whether your man is a gadget geek, an avid golfer or a serial gamer, a sports fan, petrol-head or a super chef, there is a Valentine's Gift that will make him very happy.
We conducted another survey in our office with our colleagues, customers and some of our florists, seeing what they would like to see:
Aftershave (men like smellies too!)
Alcohol
Tickets to see their favourite band, car shows or football teams
City breaks somewhere different
A new wallet or bag
A watch
Clothes
Gourmet Basket - keep an eye out for his favourite foods!
In the same way ladies don't want lingerie, most men don't want to be given a gym membership or a self-help book. While they may want it, nobody wants to be told they need one!
Why not try flowers? We were lucky enough to help a customer send a stunning bouquet of white roses to her partner to his office last Valentine's Day. Wonderful longstem white roses with the simple words 'I love you'. He was so surprised and his colleagues so jealous they immediately went to send flowers to their respective partners.
For Romance & Originality
Share a piece of your heart with a delicate romantic gift, we've compiled our best selling romantic flowers that will pave the way to a sweet, romantic Valentine's Day. Send the right message and don't be afraid of being romantic.
Make Valentine's Day special this year and surprise yourself and your partner. Our florists deliver Valentine's Day flowers across the country and around the world.