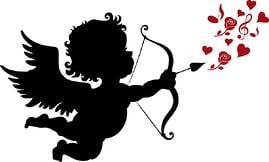 Valentine's Day, like many popular events, has many traditions which have lasted the test of time and continue to grow in popularity and are seen every year. While some people see Valentine's Day as a commercially invented occasion, it's difficult not to feel the love in the air and who wouldn't want to join in.
Let's be romantic, send more than love, letters and flowers, send smiles and happiness.
One tradition that has found its way into everyday life is the use of X's for kisses at the end of letters, emails and texts. This has, in recent times, been joined by the appearance of O's to represent hugs. But where has this come from?
When Valentine's Day was becoming more and more of an occasion that people joined in, literacy rates were low and with many people not knowing how to sign their names on cards, X's became quite common signatures. This is said to be more than a simple cross at the bottom of a document but an oath on the cross of Jesus Christ, a kiss on the cross. This has now come to simply mean crosses for kisses and can be found everywhere!
A second tradition that nobody can get away from is the sending of gifts. What started as the exchange of kind messages and letters of love were than accompanied by small gifts, chocolates, jewellery and Valentine's Day flowers.
Different countries around the world celebrate Valentine's Day on different dates but also respect very different traditions. Colombia celebrates Día del Amor y Amistad (day of love and friendship) and this is on the third Saturday of September. China celebrates Qi Qiao Jie on the seventh day of the seventh lunar month with increasing popularity since the 1980's among young lovers.
Whatever the country, flowers are the perfect gift for anyone in love, especially red roses or red flowers. With our collection of Valentine's Day flowers, you have plenty of choice how to make your loved one or friend extremely happy and remembered for Valentine's Day!