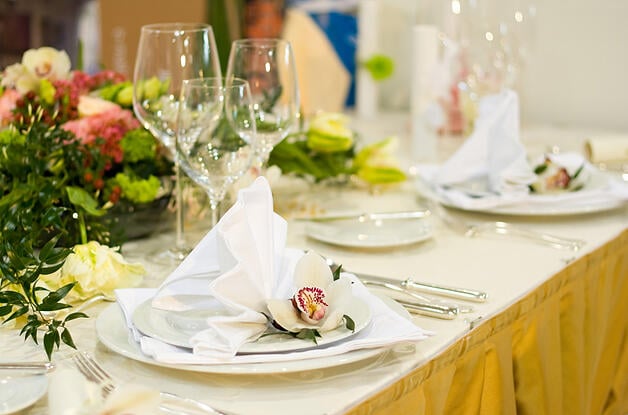 What makes a successful wedding? If you are currently planning your special day you understand the pressure you can face, the decisions you must make and the endless possibilities to choose from. For a successful wedding, it's important to look at the theme and style of the wedding as a while, if your guests see the same style, same colours and same theme across all decorations, flowers and table dressings, they're going to be impressed!
Now we're not saying that you need to have bottomless pockets to have a successful wedding, remember, there is no right or wrong way to do this. The most important thing is that this is your day! Flowers for example, a florist can guide you, advise you and if necessary they can even decide for you. Flowers are a great way to share your joy through beautiful scented floral decorations that reflect your personality. What's really interesting with flowers is that they accompany you throughout your wedding, guiding you through your day. Consider flowers as inspiration to decorate your invitations and thank you cards.
If you are moving from one place to another, from the church to the reception for example, consider a small floral arrangement every 100 metres along the way. You don't need to spend a lot on these, just use fresh flowers in keeping with the theme of your wedding, this guiding flower shows you not only your journey through the day but also guides your guests, your friends, family, colleagues and loved ones through the day adding to the atmosphere.
You could also organise for somebody to collect the flowers once everybody is where they should be, allowing for the next destination to be decorated with your beautiful chosen flowers. If you are sent flowers, it's nice for the people who sent them to see them displayed proudly, on the table in the reception for example.
It's not just flowers for your bouquet, the church or the reception your florist can help with. If you have already decided on your wedding car, don't forget to consider the flower decorations for the car!
After the wedding, as the newlywed bride and groom leave the church, it's customary for guests to throw rice over them. Some traditions in Germany state that the number of grains of rice that remain in the bride's hair is the number of children they will be blessed with. In the UK, some churches ask that rice is not thrown, consider asking your florist for rose petals. In my opinion this is far more romantic than rice!
Table Decorations
Depending on the theme and style of your wedding, the type of tables available and the venue hosting your special day, there are several types of flower arrangement to consider for use on the table. Whether you want low and flat flower arrangements spanning as much of the table as possible or if you would prefer a tall arrangement can change your guests' impression of your big day, don't forget to bear in mind it is important for the guests to be able to see each other and converse freely without flowers obstructing their meals and conversations, although they may be the most beautiful flowers.
One option for cheap flowers with maximum impact is to bring your table to life by simply dropping flower petals in small containers. You can also add a more romantic touch by adding some floating candles. For this type of decoration we recommend using glass containers to have the most effect.
At the end of the reception, consider offering the decorations to the guests, if they have seen a particular arrangement or variety of stems they are particularly interested in, let them keep a lasting reminder of your wonderful celebration. Alternatively you could plan this beforehand, writing small personalised notes to the guests who have helped most notably with the wedding or at any point in your life.
If you need ideas for wedding flowers, help with a flower delivery or are just passionate about flowers, check out our amazing range of flowers available for same day delivery if ordered before 3pm online.