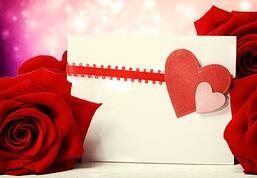 Valentine's Day is nearly here. Not only is it important to ensure you send the right gift to your loved one, but the message is tantamount to the sentiment you wish to express.
Whether it's a beautiful bouquet of red roses or a relaxing spa day for two, we're here to help at every turn.
Writing a message for Valentine's Day can be easy if we limit ourselves to "I love you" but what about being a bit more original! The ideal is to write a personal message relevant to the person, situation or date. You could take it as an opportunity to announce an invitation to a restaurant or a treasure hunt for a place to go?
The ideas and possibilities are endless and we are here to help you make Valentine's Day a day to remember.
Valentine's Flower Card Message Ideas:
A lifelong search has reached an end, I've found both my love and my best friend. I love you and I want to live my life by your side
Flowers today, fireworks tonight!
The beauty of these roses cannot match the beauty and depth of the love I feel for you. You are always in my heart!
It's still a mystery to me, I haven't got a clue - how I got so lucky to have found you!
I bet you a cuddle, I bet you a kiss. I bet you'll never guess who sent you this.
You are a beautiful wife, mother, and partner in life. I love you!
They are not from my garden but they are from my heart.
Sorry for embarrassing you at work, I am sure your face is as red as the flowers right now. I love you so much and I want to show if to the world!
When I am with you, the only place I want to be is closer.
Even though you are going to kill me for buying flowers, I saw these and couldn't resist. They looked so perfect and beautiful, just like you.
I never knew when I wished for you, that the wish I wished would soon come true. I never knew when I dreamed of you, in the dreams I dreamed, you would love me too.
From your not so secret admirer.
We hope these ideas help you find your own inspiration!