Now the Advent countdown is well under way, the trees are being decorated and Christmas gifts are being sent, you may be wondering why we associated red, gold and green with the festive season.
As it was one of the most expensive colours to produce, some say red was a statement of wealth in previous times, saved only for the most special occasions. Of course these days Santa Claus is one of the most recognisable figures of Christmas and his red and white attire is widely known.
The modern image of Santa Claus was first drawn by Thomas Nast in 1863, before this it was common to see Santa Claus as a tall, gaunt individual, sometimes even a spooky elf of a character!
Early depictions of Santa Claus show him to be wearing a range of colours you may not normally associate with Christmas, for example brown, white and green. It was thanks to Coca-Cola's Haddon Sundblom in the 1930s that Santa Claus became the red-clad figure we know and love to this day.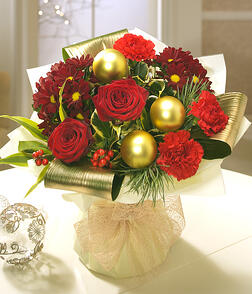 Two more iconic symbols of Christmas proudly displaying the bright red colour are the poinsettia and the amaryllis. Both of these plants are known for their striking red colour but in recent times have been popularised by their variety of colour, from red to white including pink and polka stripes.
Gold is another colour we see a lot of over the festive season, widely believed to be popular as it was one of the presents taken to the baby Jesus and the colour of the star the wise men followed to Bethlehem. Some say it symbolises the sun and light, providing warmth and hope for the return of Spring.
Similarly, evergreen plants such as holly, ivy and mistletoe are enjoyed, reminding people it won't be cold forever!
These colours play a large feature in our exciting new Christmas flower range, so if you're feeling the festive spirit and would like to send the perfect Christmas gift to a friend or loved one, we have just the present for you, check out Vintage Bouquet!