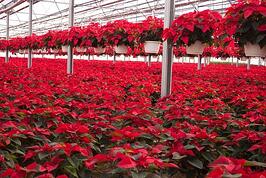 Christmas is a big deal for us. We're gearing up for Christmas at the height of summer and by November we're practically singing the Christmas carols around the office.
Along with the festive decorations, fancy fairy lights and the Christmas cheer, millions of poinsettia are being grown, patiently waiting for their place as the centrepiece of your family room.
Well known for its striking red leaves, the poinsettia is synonymous with Christmas flowers, brightening up any room you place it in and warming the house with festive cheer. In recent years, popularity for other colours such as pink and white has increased hugely, bringing a modern twist to a well-loved classic.
When you take your poinsettia home, it's unlikely you'll be able to tell which variety you have, but there are several hundred individual varieties of this festive flower. They all vary in size, texture and shade, but they all are identifiable by the pointy leaves and striking shape.
Don't be disheartened if you don't see the flowers immediately. They are small and yellow and can be found in the centre of each leaf bunch. This is an easy way to tell how well your poinsettia is doing; the flowers will be in bud and look fresh.
Be sure to take care of your Christmas flowers, poinsettia particularly are very sensitive to the cold and can begin to lose their leaves quickly if exposed to the cold for too long. Be sure to keep the plant in a bright spot with damp soil, not over-watered or under-watered and some say not to be facing directly south.
If you're looking to send some lovely Christmas flowers to a friend or loved one, why not check out our Starlight arrangement?