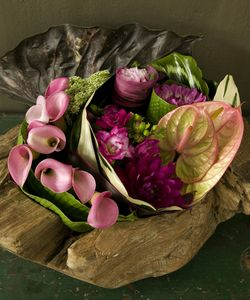 Few flowers have this classic look, the mystic and contemporary style, a fascinating attraction. Zantedeschia or Calla lily is elegant, mysterious and alluring.
Although you probably know it as Calla Lily, the flower used to be called the Ethiopian Arum. In former time when white was the colour of mourning and funeral, this particularly elegant white flower was frequently used to decorate funeral wreaths. Nowadays the Arum also shows off its beauty on more festive occasion and is very popular in bridal bouquet. But at home in a vase, either as a single flower in a clear vase or with other flowers, Zantedeschia looks fantastic wherever you place it.
Soft as velvet
The stylized cup of Zantedeschia (also called Calla or Arum) makes it a trendy, modern plant. These are mostly large and soft bracts forming the chalice that attract the attention, but the true flowers are tiny and can be found on the spadix located inside the chalice. The plant is available in many different colors: white, yellow, orange and lilac, but also a surprising dark purple. Touch the plant and you will immediately feel how soft and smooth it is. In its natural environment, this plant grows extremely well in South Africa.
Moment of Meditation
The Calla Lily has many strengths. Its green and flexible leaves helps cleaning the air in the house; the plant is able to show you lack of water just by letting its leaves drop down. The specific shape and smooth bract look like a mandala (Sanskrit word denoting a circle whose representation serves as a support for meditation) as an invitation and inspiration to let our thoughts become positive. With a calla around you, just take a breath, benefit and relax from the natural harmony.
Care Tips
Best location: bright conditions, in the sun if possible. Temperature: 12-25 ° C.
Zantedeschia appreciate a soil rich in humus and slightly humid. Due to preferring it in the sun, the foliage can lose a lot of moisture so it is better to provide water regularly. In summer, the plant may live comfortably on the terrace. In autumn, the leaves turn yellow when flowering comes to an end, this is when you should stop watering and keep the plant in a cool area that is protected against frost. In spring, wake it slowly providing water again and placing it in a warm place.
Warning: Calla will give you immediate signs when something goes wrong. Too much water or not enough water, in both case your plant may not feel well and it may die. If you gave too much water, then remove the extra water in the pot, let the soil dry. Not enough water, just put some in a large plate and let the plant absorb what it needs. In both cases, once the problem is fixed, keep it in a quiet place.
Good to know
The sensual shapes of the bracts makes it the favourite flower of many artists and photographers. Thanks to this, the Calla Lily is one of the most photographed and painted flowers, a very trendy flower particularly present in advertising campaigns in the automobile industry and also for lingerie. The most famous painting of this plant was by Georgia O'Keeffe (American painter 1887-1986), who immortalized the Zantedeschia many times.
The Calla Lily has always provoked the imagination; in ancient Rome, this flower was the symbol of the winter solstice, when the days begin to lengthen. This plant traditionally stands for purity and affinity, was used by the Victorian aristocracy to exchange secret messages. Freud saw in this elegant and exotic plant a suggestive expression of eroticism.
Calla will be a perfect flower to celebrate love and express your emotion to someone you care about. To send flowers is also to send feelings and emotions. Trust our florist to deliver your personal gift in person. Check out our flower selection in our online flower shop open 24/7 and make someone happy with flowers.