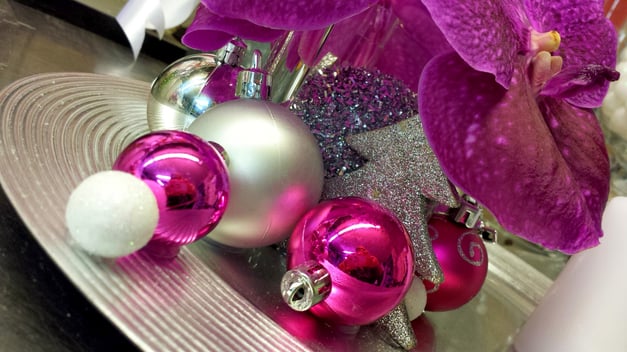 It's never too early to think about next Christmas table decoration. We know that Christmas Holidays is a busy period and we have planned an early Christmas workshop. The idea of this DIY Christmas decoration is to create a unique & sparkling case to welcome lovely orchids. Vanda, Phalaenopsis and cymbidium are among the favourite Christmas flowers. Here you can mix both orchids and Christmas decorations. Perfect on the table of the Christmas Eve dinner, New Year or even as a gift to someone celebrating a birthday in December.
For this decoration you need
A presentation dish
Christmas balls, different sizes
A candle
A glue gun (or liquid glue)
3 plastic or glass tubes
Small Christmas items
3 Vanda orchids
Follow our step-by-step instructions and be inspired by this Christmas decoration with orchids
You first need to glue the candle on one side of the presentation dish. It's important to keep the candle "alone" on its side with nothing around.
On the opposite side, put the biggest Christmas ball, 1 tube, balls and Christmas material. Continue to place the other balls & material. The idea is to create a mix, just like they fell there randomly.
Place the tubes around the big balls, be careful that they are not too close to the candle
Fill in the tube with water and add the flowers. Here we selected Vanda orchids but this also works very well with Phalaenopsis orchids, cymbidium, roses, and callas.
Easy, isn't it? Your Christmas decoration with orchids is ready to catch all eyes and surprise your friends. We used the colour of our Vanda orchid to match the colours of our Christmas balls and materials. But it's up to you to create another colour harmony if you prefer. Red and white, red and gold, silver and blue are also possible colour combinations that are very trendy this Christmas. The advantage of orchids is that they remain beautiful for a long time. A decorative point if you offer this gift to someone having his/her birthday in December. Your friend can enjoy your creation until New Year!