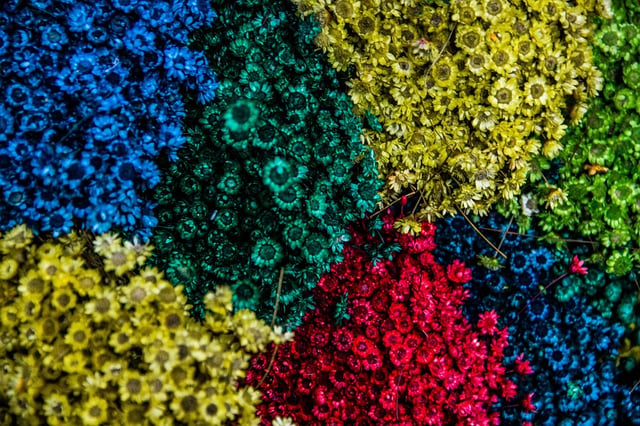 Flowers come in many beautiful colours; from the clean and crisp whites to vivid purples to rich, romantic reds. While you can buy bouquets of pretty much any colour that takes your fancy, it can be fun to create this at home. Why not match your Mum's flowers perfectly to her kitchen? Pick the colour of your girlfriends based on her favourite dress that she wore on that date? Select the school colours as you congratulate your grandson or daughter on their exam results?

Dyeing your flowers can make the bouquet extra special and can be a great pastime for a rainy Sunday afternoon! It's also quick and easy, with a couple of methods to suit everyone's styles.

Spraying

Why not try spraying the heads of the flowers? You'll need something to cover and protect your work surface and a floral spray paint. Floral sprays are much lighter than normal spray paints and do not harm the flowers, which will maximise their life.

Be sure to follow the instructions on the can to ensure that you get the best results. You'll want to slowly rotate your stems in order to get a nice, even coverage of paint. If you're looking for a light, translucent shade then just the one coat of paint will do, but a couple of coats will cover the whole surface of the flower in a deep tone.

Absorbing

If spraying seems a little too messy or you don't have a steady hand, then absorbing may be the method for you. It can take a little while longer, as you'll need to sit the flowers in the dye to allow them to bring the colour up through their stems.

First, you'll need to cut the stems at an angle to ensure that the maximum amount of colour can be brought up into the petals. Add a couple of drop of food dye into a vase of water; the more colour, the deeper the tone. Then just sit back and relax for a couple of hours as the flowers slowly change colour.

If you're looking for an interesting tie-dye effect to your flowers, then try slitting the stem at the base and put each segment into a different coloured dye. You'll end up with multi-coloured petals and an original bouquet like no other.

Dip Dye

If you just fancy dyeing the very tips of the petals, why not try dip dyeing? It's very similar to the absorption method, except rather than putting the stems in the dye, you just need to mix some food dye with water and put the tips of the petals in.

While this method can be used to dye the entire flower head, it has the best results when just dipping the very tips of the petals in. The dye will disperse down the flower and create a beautiful two tone effect.

Leave it to us

While dyeing your flowers can be fun, it can get a little messy and takes a fair bit of time and forethought. At eFlorist, we have a wide range of beautiful brightly coloured bouquets available for same day delivery. Why not tell someone that you're thinking of them with a lovely 'Wow' bouquet of vibrant stems or one our favourite pastel basket, 'Eden'.