This year eFlorist are proud to be sponsoring the British Florist Association's centenary exhibit at RHS Chelsea 2017.
The RHS Chelsea Flower Show is a week-long floral extravaganza and home to Chelsea Florist of the Year and Chelsea Young Florist of the Year. Both competitions are run in association with the BFA and showcase the finest and most innovative floral design.
To discover more about this exciting competition, we met 2017 RHS Young Florist of the Year finalist and 2016 Silver Medalist, Louisa Cooper from School Farm Florist, Walsall.
The 2016 battle of the blooms celebrated all things Carnival, with florists, set the challenge to create a Brazilian themed headdress. Enter Louisa Cooper, whose first time at Chelsea resulted in a silver medal. At 22 years old, you'd expect this to be one of her first accolades… but with over 4 years competing you'd be mistaken.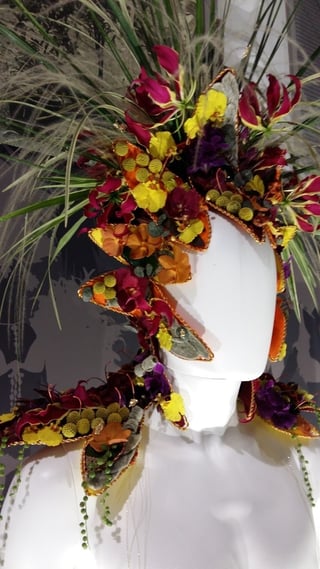 From tiny acorns
Having seen the spectacular headdress that earned her award, I'm intrigued to find out how Louisa started in the industry.
"When I finished school I wasn't 100% sure what to do next. Then a family friend, who's a florist, asked if I could help her out with a wedding. I started thinking 'I could do this' so looked into courses around the area. I visited South Staffordshire College on an open day, loved it and signed up immediately."
Since starting work at School Farm Florist in 2012, Louisa's racked up an impressive competition résumé; her first involved creating a hand-tied bouquet…
"I entered whilst still studying at level 2, and really went along to test the water. I decided to create a bouquet for lady Ga Ga… but didn't do very well at all. Everyone else's standard was so high. But I got the bug, and thought 'well next year, I'll come back and give it another go!'"
Back with a vengeance
Skip forward to 2013 where Louisa won Bronze at UK WorldSkills; resulting in the opportunity to represent the UK at the 2015 WorldSkills Competition in São Paulo, Brazil.
"It's a massive competition, where every vocational skill you can think of is showcased. The event has an opening and closing ceremony and there are 50 countries representing each skill… it's like the Olympics of skills!"
As she continues to describe the event, it sounds like an intense process; competing over 4 days, all manner of designs are created, from bridal bouquets to funeral work. Then there are the surprise tasks, where competitors are given a brief only 15 minutes before;
"What's amazing about those particular tasks is that we all got the same brief and flower material, but everyone made something completely different. That's what makes competing inspiring as you can see what everyone else has created."
Next step - Chelsea
After such an intensive competition, it makes sense that the next step should be RHS Chelsea Young Florist of the Year. Entering the heats in September 2015, Louisa had a long wait until the finalists were announced;
"I was happy with my scores during the heats, but you just don't know until the heat winners are revealed in March. After that, I had a month and a half after seeing the brief to design and make my display, and sort out all the logistics (from transport to accommodation.)"
When I seem surprised about the short amount of time finalists have to create their designs, Louisa chuckles;
"You work on adrenaline, it's better that way… the longer time you have to prepare, the more you faff! Luckily the brief was to create a Brazilian headdress, which was great, as I'd only visited there a year beforehand."
Future plans
After achieving so much, in such a short space of time, I ask Louisa what's next;
"I'd like to try again for Chelsea 2017. Because last year was my first Chelsea I was very much in awe. It would be great to get through next year as I'll know a bit more what to expect… I guess it all depends what the brief is!"
As to asking where she sees herself in a few years, her answer is wonderfully refreshing;
"It depends where I am taken. Every competition I enter teaches me something new and has the potential to open so many doors… it's exciting, and will be fun to see where I might end up."
So watch this space, who knows what things Louisa will be doing next… but we can be certain they'll be big