Remaining close to your family, or maintaining friendships and relationships when you're long distance can be tough. Maybe you've recently flown the nest? Or perhaps you're experiencing empty nest syndrome? Whether its a new career, recent graduation, moving for love, or simply a change of scenery, there's a time in most people's lives when friends and family become fragmented, and you can no longer simply nip around the corner for a coffee and a catch-up. Yes, there may be social media and text, however, despite the rise of technology to help us stay connected- it's still easy to feel remote and like you're drifting apart.
So, if you're missing someone close to you, we have some suggestions to help you remain close to long distance friends and family... no matter where you are.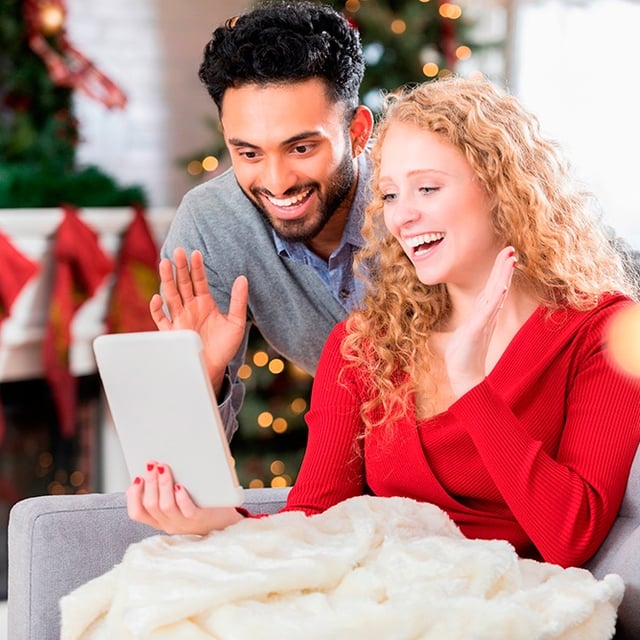 Make a Call an Occasion
It may seem an obvious solution, however, scheduling in regular phone calls when you're long distance can be challenging. In a non-stop world, where work, family, and general day-to-day existence catches up with you, setting aside an hour for a catch up can often seem impossible.
If this is the case, why not try making your calls a special occasion? If you have a close group of friends or family circle, set a monthly or bi-monthly date to Skype, Facetime or conference call together.
You can even theme your calls... virtual brunch anyone? Or how about a cocktail hour?
Or, if there's one special person you need to keep in touch with simply schedule in a couple of calls a month, just as if you're going to meet them down the pub... except your pub is a phone call. By limiting your phone calls to lengthier ones they will become easier to fit in and make your call feel like a social event.
Turn Email into a Conversation
the perfect way to communicate around the clock, the good old email allows you to tell the longest of tales at any time of day. However, how can you truly connect via a computer screen?
Email is most certainly not as tangible and tactile as a letter, it also lacks the personal element of a phone call.
How about colour coding your emails? Type responses beneath your friends in a different colour, so you're actively commenting on their thread. It makes one train of thought into an actual conversation.
Experiment with Social Media
There's a time and place for social media... the age-old "Happy Birthday" montage on Facebook may be convenient, but does it really replace a card or a thoughtful bouquet of flowers? In our opinion, no. Special days should be marked with special gestures. However, using social media as a way to keep up-to-date with day-to-day life is a great way to remain in the loop and feel like you're truly connected when you're living long distance.
There are many fun challenges spread across social media now too. We've recently been enjoying Facebook's "7 days, 7 black and white photos", by actively sharing pics with your friends as a challenge, it sparks a conversation.
Holiday Planning
There's nothing better than having something to look forward to, and, for us, a holiday is at number one. By having a trip marked in your diary, it gives you something to work towards.
Why not try planning a holiday together? Set each friend or family member a task, whether it's booking a hotel, organising travel, locating restaurants, etc.
By working together it will create more excitement and make the planning feel like an event in its own right.
Write a Letter
It's an age-old gesture, but it sure does it work! Receiving a letter is sure to brighten anyone's day. Imagine finding, amidst all the bills, a hand-written note especially for you.
Messages don't even need to be very long... a postcard is also a wonderful thing to receive. Just the simple gesture of taking the time to put pen to paper helps someone know they are in your thoughts and your heart.
How about you? What do you do to nurture long distance friends and family relationships?
With love
Eflorist x