Can you imagine 173 months with absolutey no rainfall? That's more than 14 years, nearly 60 seasons! The Atacama Desert, Chile, known by many as the driest place on earth earned it's title in the early 20th century after a dry spell spell of more than 5000 days.
The dry spell may have come to an end but even to this day, the average rainfall in the nearby city of Antofagasta, Chile which is fewer than 100km away is 0.07 inches, or 1.8mm. You may be beginning to think that nothing could possible live in these conditions, and generally speaking you'd be right.
In a land of extremes, conditions can change like the wind (literally; it is normally the wind that causes it). The Atacama Desert is located very near to the warmest ocean on the planet, the South Pacific Ocean which means the climate can be extremely volatile. El Niño years can be a time of extreme capriciousness, proved by the heavy thunderstorms in March, bringing nearly an inch of rain in a single 24 hour period. While this doesn't seem like much, especially compared to what we are used to in the UK, but for the Atacama Desert this was 14 years worth of rain in one fell swoop. Serious stuff.
The effects of such drastic torrents on a land unprepared for such conditions can be devastating. The Copiapo River, a normally dry, arid river swelled to bursting point, breaking its banks and unfortunately taking the lives of at least nine people.
A particularly hardy flower, the malva flower, also known as mallow, normally only bloom every five to seven years and typically studies have found that this normally happens at the same time as El Niño. While the unprecedented rains cause problem for cities and those that live nearby, the malva flowers have been taking every opportunity to bloom and have bloomed "the most spectacular blossoming of the past 18 years". What a sight these malva flowers have bloomed into.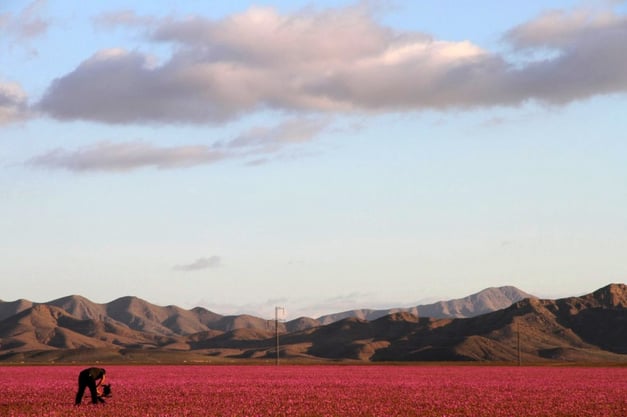 (Carlos Aguilar/AFP/Getty Images)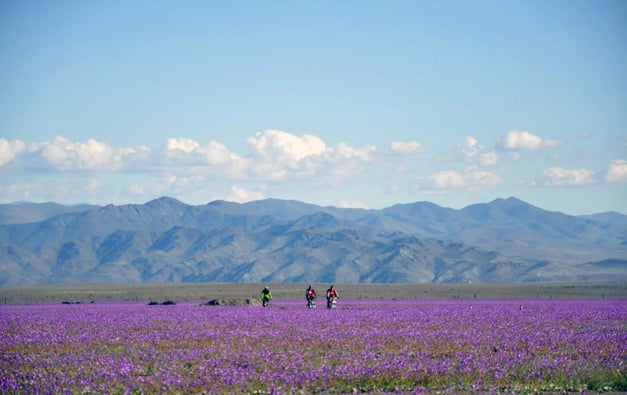 (Carlos Aguilar/AFP/Getty Images)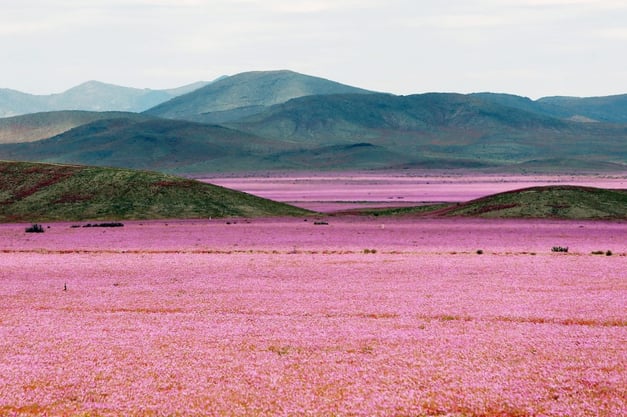 (Mario Ruiz/EPA)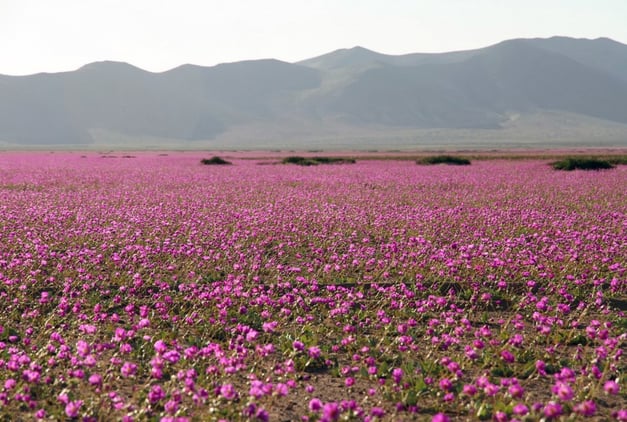 (Carlos Aguilar/AFP/Getty Images)
What's your favourite flower display in unlikely places?