Valentine's Day is almost there with all its romantic atmosphere. You maybe wonder why red is everywhere: in press, advertising, magazine, website, transport, TV and even in your favourite flower shop!
Red is a strong colour that represents desire, passion and love. With it's undeniable beauty makes it the perfect choice for most occasions but especially for Valentine's Day. Unlike other colours, red is everywhere in nature, whether mineral, floral or divine.
History of the Red Rose
Roses have been on earth for around 30 million years. All civilisations from the Greeks, Romans, Persians to our contemporary era have shown passion for this flower because of its beauty, colours and fragrance. Rose is the flower that comes on top for 90% of people as their favourite flower.
What a better combination than red roses to show passion and love. You will never go wrong with a bouquet of red roses to show your love.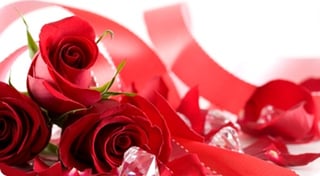 With red roses, you don't need more words to say "I love you". There is no better way to express your feeling than a bouquet of red roses. The red rose is for sure the most beautiful among all roses. Didn't Cleopatra use them to carpet her bedroom when she received her lover? Didn't Playing cards in Alice Wonderland lose their heads over them? After Aphrodite or Venus, the goddess of love in Greek mythology tied a red rose, this flower was linked to beauty and love. In the 18th century, a special rose language appeared as a way to communicate between lovers who were forced to keep their feelings as a secret because of the "arranged marriages".
What does a Red Rose mean?
The red rose became the symbol of true love that will face all dangers and be stronger than obstacles. For the Christians, a red rose is associated with the virtue of Virgin Marie. We can find red roses symbolism in classical paintings as well as in contemporary films. Red roses are also used as the symbol of desire, the exciting feeling for new love or craving passion.
Quantity and shades are also important factors. The brighter the stronger! From a single flower "love at first sight" to a dozen"be my lover", to 99 "I will love you all my life", you have a large scale to make an impression to your partner or secret lover. If you want to be extremely romantic and do what 28% of women wait for at Valentine's Day, offer 108 roses to say "Marry me" or only 2 roses tied together to symbolise an engagement.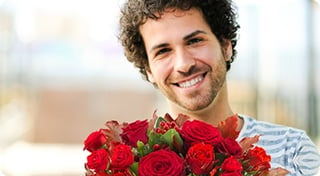 As you understand now, red roses are the ultimate gift you need for Valentine to express romantic love or passion. Like Cupido, the red roses will touch the heart of your lover and make this Valentine a very special day. Any help to create this surprise? Just trust our florist, our online flower shop is full of great red roses bouquet and arrangement to be delivered for Valentine. Surprise your partner with a flower delivery at home or at work.